There has been no shortage of travelers utilizing the MS Lucky Lady to cross the Ohio River between Rising Sun and Rabbit Hash.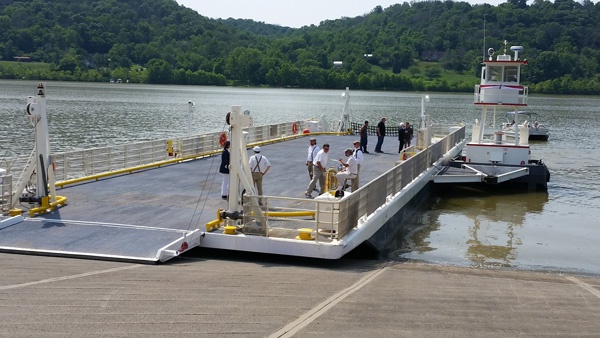 The MS Lucky Lady Ferry Boat. Photo by Mike Perleberg, Eagle Country 99.3.
(Rising Sun, Ind.) - The Rising Sun to Rabbit Hash ferry boat has been very popular in its first month.
The MS Lucky Lady, owned and operated by Rising Star Casino, began giving rides to travelers across the Ohio River in late September.
In a third quarter update to shareholders on Wednesday, Full House Resorts, Inc. President and CEO Dan Lee said that during 22 days of operation for the ferry in October, the vessel transported more than 10,300 passengers.
"At Rising Star, we are proud to have officially begun ferry boat service between our resort casino and populous Boone County, Kentucky. After navigating numerous state and federal agencies for several years, we finally welcomed our first cars on September 29. High winds and a mechanical issue caused us to not operate for a few days during the month. Those issues have been resolved and the ferry is now operating reliably with approximately four round-trips per hour starting at 8:00 a.m. and running until 10:00 p.m. from Sunday through Thursday and until midnight on Fridays and Saturdays," he said.
Lee added that the ferry is still in a "ramp-up period" and there will continue to be a targeted awareness campaign to let potential casino customers know it is running.
Rising Star Casino will transform this month into the Christmas Casino. The seasonal makeover of the property has helped boost casino attendance – and gaming revenue – each of the past several years.
Lee told shareholders Wednesday that Full House Resorts is rolling out the Christmas Casino idea to another property this year. The Christmas Casino & Inn was unveiled November 1 in a building near Bronco Billy's Casino in Cripple Creek, Colorado.
As far as third quarter numbers, Full House Resorts reported $44 million in net revenues. That's up from $43.7 million reported in the third quarter of 2017.
"The past few months have been eventful ones for our growing company," said Lee. "We continue to benefit from property investments made over the past two years, as seen in this quarter's solid results. We also recently completed several more investments."
Last month, a hostile takeover effort was submitted by Z Capital Partners, LLC and Las Vegas-based Affinity Gaming. The companies proposed to acquire Full House for a cash or stock transaction of about $132 million.
Lee and the Full House board of directors responded that the offer was "not in the best interests." The rebuttal could lead to Z Capital Partners going directly to Full House stockholders in a takeover bid.
RELATED STORIES:
Full House Resorts On Takeover Bid: "Not In The Best Interests"
Rising Star Casino's Owner Is Subject Of A Takeover Bid
The Ferry Boat At Rising Sun, Rabbit Hash Is Now In Operation