Charleigh Waltz's parents from Lawrenceburg share the story of their premature daughter's amazing success.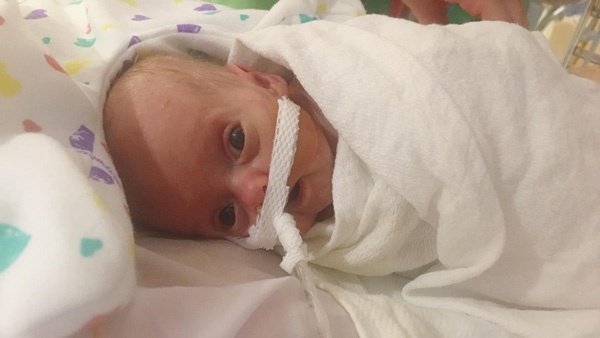 Charleigh Waltz was born on May 27, 2019, about 17 weeks premature. Photo provided.
(Lawrenceburg, Ind.) – Fourteen ounces. That is all Charleigh Waltz weighed when she was born about 17 weeks premature.
The first daughter of Lawrenceburg residents Brittany and A.J. Waltz is still in the neonatal intensive care unit after 73 days of life.
"She is stubborn and definitely feisty," says Brittany, thankful her baby has those characteristics.
For such a little person, Charleigh has had to leap some big obstacles since her birthday on May 27. That day, Memorial Day, Brittany was not feeling well and opted to stay home instead of accompanying A.J., a local photographer, to shoot photos at a parade in Rising Sun.
When A.J. returned home, he urged Brittany to go to the hospital.
"I remember being extremely angry. I just thought it was an anxiety attack," recalls Brittany.
Once at Highpoint Health, nurse Ashley Asche immediately noticed alarming symptoms in Brittany. A doctor quickly diagnosed her with HELLP, a severe type of preeclampsia with life-threatening implications.
After Asche provided a steroid shot to Brittany, she was transferred to University of Cincinnati Medical Center. Inside, Charleigh was not getting enough blood. When Brittany asked if an emergency c-section could be delayed a couple days to better her baby's chances of living, doctors told her there were only a matter of hours.
In the hospital waiting room, A.J. could only wonder at what was going on in the emergency room. He was floored when a nurse came and told him he was welcome to come back and meet his newborn daughter.
Brittany was receiving magnesium treatment for two days before she could see Charleigh in-person.
"That was the best moment ever seeing A.J. and my daughter," says Brittany.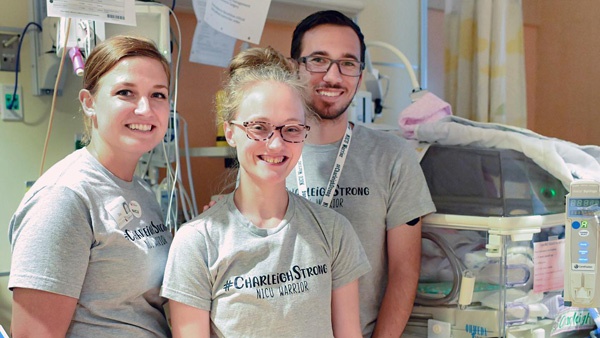 Brittany and A.J. Waltz with Highpoint Health emergency department nurse Ashley Asche (left). The Waltz's credit Asche's quick action for saving their premature daughter's life. Photo provided.
A.J. and Brittany credit Asche, the nurse at Highpoint Health, for taking immediate notice of Brittany's symptoms that day. Without the dose of steroids, doctors told them, it is likely that Charleigh would have died.
"Ashley never left my side," Brittany says, adding that the nurse rode in the ambulance with her from Highpoint Health in Lawrenceburg to the hospital in Cincinnati when she was supposed to be getting off of work.
"All the nurses just cared so much," A.J. adds.
Now at three pounds, four ounces, Charleigh remains in the neonatal intensive care unit at Cincinnati Children's Hospital. Doctors have been amazed at how developed her lungs and heart are for a baby born so early, says A.J.
Still, there are good days and bad days.
"It has been an absolute roller coaster," he says. "She just keeps fighting and listening to her doctors. We were told at times that she might not make it."
Charleigh must still clear some hurdles before getting out of NICU. She will need surgeries as she is taken off a ventilator. It is likely she will have chronic lung syndrome due to being on that ventilator. She will also need to be trained to take a bottle before getting off her feeding tube.
But if all goes well, she could finally come home in November or December.
The new parents have been sharing updates on Charleigh's progress on the Charleigh Strong NICU Warrior Facebook page. The posts are followed by thousands.
Friends, family, strangers, and others from near and far have sent Charleigh and her family countless gifts, books, and cards. Letters have come in from more than half of the United States. A.J. and Brittany are hoping that Charleigh will eventually receive a card from every state.
They read the cards and letters to Charleigh each day. Monitoring of Charleigh's brain activity in the NICU shows hearing the letters read aloud are highly stimulating for her.
Prayers have also been appreciated. Charleigh's story has even been used in a homily by a priest in Florida.
"Charleigh has brought so many people together. It's great," observes Brittany.
As with most extended hospital stays, the Waltz's medical bills are starting to build. Friends Jim Mansfield with Mansfield Insurance and Greg Gronwall with telecommunications services provider ACN have organized a progressive dinner fundraiser this weekend.
For $30 per person, supporters can visit three restaurants in Lawrenceburg – Riverwatch, Strong's Pizza and Grand Buffet – on Friday, August 9.
Tickets are also available for $30 for another restaurant tour in the Bright area on Saturday, August 10. Those locations include At The Barn Winery, Shift Restaurant and Bar and Oasis.
Participants who visit all three stops either evening will be eligible to win one of two big screen televisions.
Visit https://www.eventbrite.com/o/support-charleigh-25238166089?fbclid=IwAR2KVigBWuAe9spn86GGaCQ-SmpwuL5U4vpKy5dA6Rdstku_y_XQNIunjf0 to purchase tickets.
"The community support has been amazing," says A.J.