National Wreaths Across America Day is Saturday, December 18. Get your wreaths now.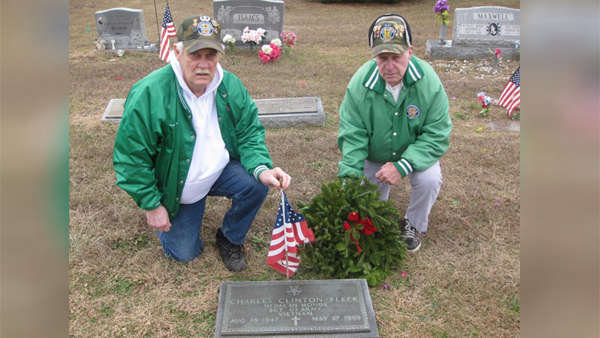 Jerry Bondurant and Walt Bryant from a few years ago when they placed this wreath on the grave of Congressional Medal of Honor Recipient, Charles Clinton "Chalkie" Fleek. Photo provided.
(Milan, Ind.) – A project that started nearly 30 years ago is continuing to honor fallen military heroes.
National Wreaths Across America Day will be held on Saturday, December 21.
When Wreaths Across America started in 1992, there were 5,000 wreaths to be placed at Arlington Cemetery. Today, wreaths are placed not only at Arlington, but at more than 2,500 locations across the country.
Locally, Baylor Trucking has received several hundred wreaths to be placed on the graves of local veterans.
Community members are encouraged to contact Baylor Trucking at 812-623-2020 to request a wreath or wreaths. The wreaths will have to be picked up at Baylor Trucking.
PG Gentrup will also help with the distribution of wreaths. If you would like a wreath to put on a grave and are unable to pick it up at Baylor Trucking, contact PG at 513-602-5595 or at pggentrup@yahoo.com.
In addition, PG will be placing wreaths at gravesites at Greendale Cemetery, Aurora River View, and Rising Sun. Other area cemeteries will be visited if there are enough wreaths.
"The Veterans would like to say thank you to Cari Baylor and Baylor Trucking for their dedication to our veterans and making sure they are remembered," said Gentrup. "They really go Above and Beyond the Call of Duty."
To learn more about Wreaths Across America, visit Wreaths Across America.