He hasn't picked a school yet, but Ritter plans on going into chemical engineering.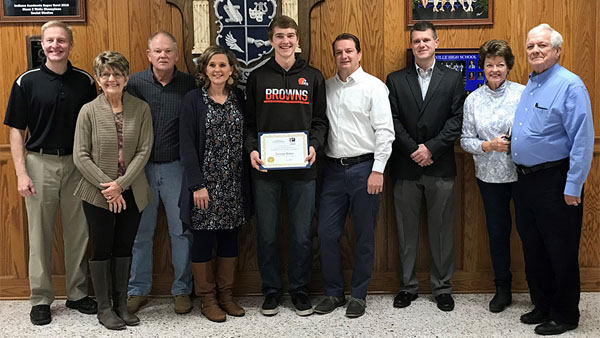 George Ritter (middle) receives Ripley County's 2019 Lilly Endowment Community Scholarship. Also pictured, Charlie Rabb, Ellie and Albert Amberger, Lissa Ritter, Jade Ritter, Andy Allen and Joan and Gene Ritter. Photo provided.
(Batesville, Ind.) - On December 5th, 2018, the Ripley County Community Foundation proudly announced George Ritter as Ripley County's 2019 Lilly Endowment Community Scholar. George will receive full tuition for 4 years and a $900 per year book stipend to the Indiana College or University of his choice.
George Ritter is the son of Jade and Elizabeth Ritter and is a senior at Batesville High School. Although he does not know which college he wishes to attend yet, he plans on going into chemical engineering. Along with being a top student at his high school, George participates in National Honor Society, Drama Club, is a member of the Track and Field team, serves as a tutor and participates in the St. Louis Mission Team.
The Lilly Endowment Community Scholarship is one of the most competitive and prestigious scholarships offered by the Ripley County Community Foundation. Candidates are evaluated on grades, extra-curricular activities, test scores, community involvement, and must write multiple essays to give the committee a better understanding of the student. The selection committee is composed of Ripley County residents representing all areas of the county. During the evaluation process, the committee is not given names of the applicants or the schools they attend and during the final interviews, the student is only introduced by their first name. This provides for as much objectivity as possible. Once the Ripley County Community Foundation scholarship committee had chosen and interviewed the finalists, the candidate's applications were sent to the Independent Colleges of Indiana, Inc. (ICI) for the final selection of the recipient.
Each of the four finalists will receive a Ripley County Community Scholarship in the sum of $2,000 in their freshman year and a Grateful Families Scholarship and a Jane Deiwert Scholarship in their Sophmore year. The four finalists are: Alyssa Brinkman, Trey Heidlage, Sarah Preston, and Chloe Shaw.
Alyssa Brinkman is the daughter of Jane and Daniel Brinkman and is a senior at Milan High School. Alyssa is her class president, valedictorian, and participates in swimming and beauty pageants. Trey Heidlage is the son of Julia and Robert Heidlage and is a senior at Batesville High School. Trey is Co-Captain of the Varsity Basketball team, a member of student council, and an active member of his church. Sarah Preston is the daughter of Beth and Robert Preston and is a senior at Oldenburg Academy. Sarah is National Honor Society President, Captain of the Varsity tennis team, a member Academy Singers, and a member of The National Academy of Future Physicians and Medical Scientists. Chloe Shaw is the daughter of Amy and Steve Shaw and is a senior at Batesville High School. Chloe is Treasurer of the Key Club, a Math Center Peer Tutor, a member of the Dance Team, and a member of Senior Leadership Committee.
The Ripley County Community Foundation congratulates George Ritter and the four Ripley County Community Scholars for their hard work and achievements.