The donation is in celebration of 812 Day.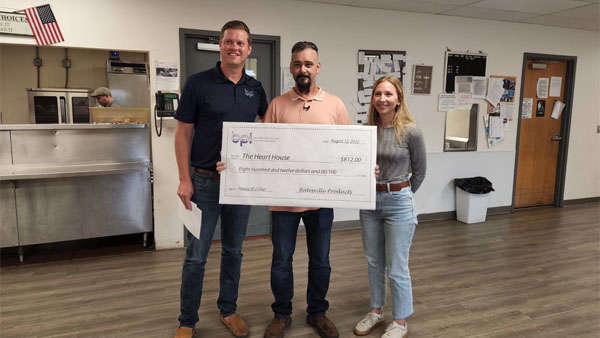 Batesville Products gives a surprise donation of $812 to the Heart House. Photo by Travis Thayer, Eagle Country 99.3.
(Aurora, Ind.) – An act of kindness can go a long way.
Last Thursday, Tim Williams, a representative from Batesville Products, surprised the Heart House with an $812 check in celebration of 812 Day.
The new tradition will see multiple businesses give back to the community through acts of kindness, supporting local business, and appreciating the Southern Indiana scenery.
"What we are trying to do is spread the word around the 812-area code, the sense of community," said Williams. "The Heart House has meant a lot to BPI. We have a lot of great employees that work at Batesville Products from the Heart House."
The Heart House is located along U.S. 50 in Aurora and serves homeless persons facing crisis in Dearborn County and surrounding counties of Franklin, Ohio, Ripley, and Switzerland.
The 72-bed shelter includes a personal redevelopment program that assists residents in developing life skills, which includes helping them find gainful employment.
"This is great," said Wyatt Sampson. "I had no idea you were coming today to do this, but I know a lot of our people are getting help but gaining employment through BPI."
Sampson, the executive director at Heart House, said the $812 donation is going to help out so many more people.
"We accept families from all different types of backgrounds," Sampson continued. "It's a great place to come get rooted, find yourself with whatever you are struggling with. Everybody comes in with different situations. It helps them get the time to get themselves together. The ultimate goal is to get them in a better place to find permanent housing, but not only find it but maintain it."
For more information on the Heart House, visit (3) Heart House Inc. | Facebook.
Information about Batesville Products can be found at Permanent mold casting experts | Batesville Products.
RELATED STORIES
812 Day: Grassroots Holiday on August 12