Franklin County deputies say a driver attempted to make a pass in a no passing zone on U.S. 52.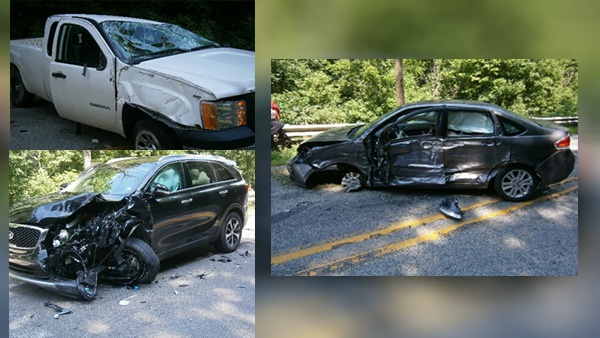 Photos by Franklin County Sheriff's Department.
(Franklin County, Ind.) - An ill-advised decision to pass a slower vehicle in a no passing zone on U.S. 52 near Cedar Grove put one person in the hospital.
Cortney Miley, 24, of Brookville, attempted to pass a 2011 GMC Sierra pickup truck in a no passing zone on a curve and hillcrest on Tuesday, July 3 at 11:30 a.m., according to the Franklin County Sheriff's Department. Driving the truck was Walter B. Allen, 45, of Laurel.
During the illegal pass, Miley's westbound 2011 Ford Fusion collided head-on with an oncoming Kia Sorento driven by Joyce Sacksteder, 74, of Cedar Grove.
Following the impact between the two cars, Miley's vehicle traveled back into the westbound lane where it struck Allen's truck. The pickup was forced off the highway and down into a deep ditch.
Allen suffered a back injury. He was taken to Margaret Mary Health in Batesville by Brookville EMS 2.
Miley and Sacksteder each refused medical treatment at the scene.
Deputies cited Miley for passing in a no passing zone.
Helping at the accident scene were Brookville Volunteer Fire Department, Cedar Grove Volunteer Fire Department, Brookville EMS 2 and Responder 24.