The select soccer squad is having an amazing season.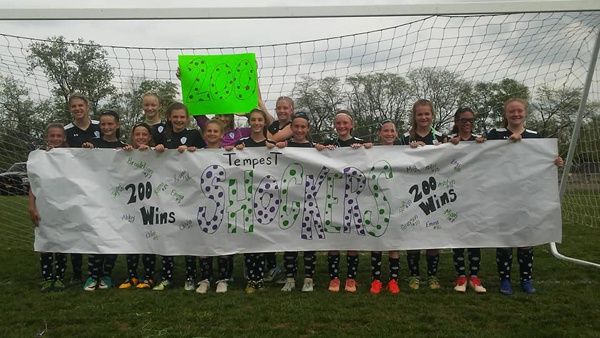 Photo provided.
(Dearborn County, Ind.) – The Tempest Shockers U14 girls soccer team has completed an undefeated regular season.
The local girls competed at the Epic Cup at Miami University last weekend, winning a second consecutive U-14 Gold Division Championship. It is the Shockers' third tournament championship this spring.
The Tempest Shockers include Ashtyn Gindling, Reagan Horn, Emma Davis, Olivia Hopper, Myah Boze, Jayden Wilson, Grayson Drew, Lexi Watkins, Abby Lane, Emma Deters, Abby Welch, Kami Cheek, Brooklynn Ward, Juliet Strange, Chloe Faught and Mia Howard.
The team is coached by Chris Hopper, Keith Cheek and Sean Wilson.
Coach Keith Cheek says Tempest was also crowned the Buckeye Elite 1 champs by going 7-0-0 in league play. The record allows them to compete in the Buckeye State league next fall.
"I knew this would be a special season but the girls took it to another level. We just don't see teams play the way we play. I'm so proud of the work this team has done over the last 5 years and look forward to the next 5 years. We have one more goal this season and thats to win the Indiana Presidents Cup and take a run at the national championship" said coach Cheek.
The Shockers have been dominant this season, scoring 23 times while allowing just three goals. The team will compete in the Indiana President's Cup State Tournament being held May 19-20 in Indianapolis.