Not even the rain could stop the Shockers.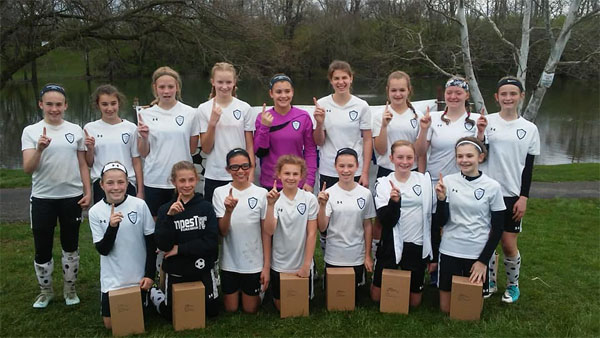 The Tempest FC Shockers U14 continued their spring dominance by winnning the MASC Soccer Tournament in Fairfield, Ohio this past weekend. Photo provided.

The Tempest FC Shockers U14 Girls (9-0-0) traveled to Fairfield, Ohio on April 13-15 to compete in the MASC Soccer Tournament.
It was a rain-soaked weekend as the Shockers returned to the MASC to settle some unfinished business from the previous year. The Shockers continued their early spring dominance with two big wins and two shut-outs on the first day of bracket play, setting up a Championship battle with fellow Buckeye Elite 1 team Cincy SC Premier.
In the final the Shockers surrendered their first goal of the season falling behind 0-1 before tying the score a few minutes later for a 1-1 halftime score. The second half belonged to the Shockers, who scored three consecutive goals for a 4-2 final score.
The Shockers have reached the championship game in eight consecutive tournaments, winning seven of the eight. Tempest FC Shockers would also like to congratulate Tempest Revolution, Tempest Force and Tempest Cyclones on their respective MASC championships this past weekend.
The Tempest Shockers include Ashtyn Gindling, Reagan Horn, Emma Davis, Olivia Hopper, Myah Boze, Jayden Wilson, Grayson Drew, Lexi Watkins, Abby Lane, Emma Deters, Abby Welch, Kami Cheek, Brooklynn Ward, Juliet Strange, Chloe Faught and Mia Howard. The Shockers are coached by Chris Hopper, Keith Cheek and Sean Wilson.
For more information, visit http://www.indiana-shockers.com.