This announcement was made yesterday by Combe Family Vice President for Athletics & Recreation Jim Phillips.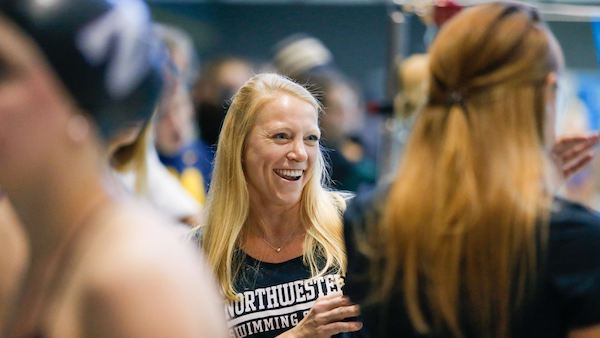 Photo by Walt Middleton.
(Evanston, Ill.) - Northwestern has elevated Katie Robinson to Director of Swimming & Diving, Combe Family Vice President for Athletics & Recreation Jim Phillips announced Thursday.

"We are thrilled to introduce Katie Robinson as Northwestern's new Director of Swimming and Diving," said Phillips. "In the midst of unprecedented circumstances, our committee carried out a comprehensive international search. In speaking with our student-athletes, industry leaders, and a host of talented candidates, it became very clear that the best candidate was already a part of our Northwestern family. Katie has played a critical role in our program's undeniable ascension over the last two seasons and we cannot wait to see where she takes the program in the years to come."

Robinson has served as Northwestern's associate head coach since July of 2018. With her promotion, Robinson brings a student-athlete driven coaching focus with experience from notable programs including Virginia, Rutgers and head coaching experience at Tulane.

"I want to thank Dr. Phillips and the committee for their care and attention during this search," Robinson said. "I am moved by the commitment President Schapiro and Dr. Phillips have made toward the swimming and diving program and their trust in me to lead. I look forward to upholding this honor with great responsibility and enthusiasm. Northwestern truly is a special place dedicated to the experience of each student-athlete in their pursuit of excellence. The student-athletes, coaches and administrators that I've had the privilege to work with over the past two years have inspired me day in and day out. This is just the beginning for our program."

Robinson is one of six female head coaches in swimming and diving across the Power-5 conferences and just the second female to oversee both men's and women's programs in the Power-5.

In Robinson's two years in Evanston, the program has reached new heights. In 2020, Northwestern boasted 20 CSCAA All-Americans, three Big Ten Champions in the women's program, and the most points ever scored by the men's program at the Big Ten Championships.

Before joining the Wildcats, Robinson was the head coach of the women's swimming and diving program at Tulane from 2013 to 2018. During her time with the Green Wave, all 14 individual school swimming records were surpassed, as were all five relay marks. Robinson's swimmers and divers won 32 conference medals and reached the NCAA Zone Diving event four times.
In addition to her team's success in the pool, the Green Wave earned Scholar All-America status from the College Swimming Coaches Association of America each of her 10 semesters.

Robinson served as an assistant coach for Rutgers' women's swimming and diving team from 2011 to 2013. She helped the Scarlet Knights post consecutive 9-2 dual-meet records in her two seasons and they finished as high as fifth at the Big East Championships in 2013.

During the 2012-13 season, Rutgers swimmers combined to post 41 lifetime-best showings. For her work, Robinson was the recipient of the 2012 Inaugural CSCAA Jean Freeman Scholarship and the 2012-13 Big East SWA Professional Development Grant.

Robinson's first full-time collegiate assistant post came at Virginia from 2008 to 2011. During her time on the staff, the Cavaliers' men's and women's teams won three-straight ACC titles and advanced to the NCAA Championships each year.

The Virginia men posted a combined 30-3 dual meet record in Robinson's three years and finished ninth in the NCAAs in 2009, 10th in 2010 and eighth in 2011. The women's squad, meanwhile, tallied a cumulative 27-4 dual-meet mark while finishing 12th in the NCAAs in 2009, ninth in 2010 and 13th in 2011.

Robinson's initial foray into collegiate coaching came as a graduate assistant at the University of the Pacific in Stockton, Calif., where she was responsible for aiding the head coach in both training and recruiting.

In addition to her responsibilities with the team, she also served as the school's Swim School Director, where she hired instructors, coordinated schedules for swimmers, handled payment and organized advertisements and promotions while raising over $75,000 in gross profit to aid the team's travel budget.

Prior to her coaching career, Robinson was a star at the University of Texas (2003-07) where she was an 11-time All-American, claimed the 200-yard fly title at the Big XII Conference Championships three times and served as team captain in 2006-07. She earned a spot at the NCAA Championships every year as a Longhorn and helped Texas to four Top-10 finishes, including sixth-place showings in both 2005 and 2007.

As a senior for the Longhorns, she was named first-team ESPN The Magazine All-District VI and second-team Academic All-America, and was the Big XII nominee for NCAA Female Athlete of the Year.

Robinson claimed the Jody Conradt Endowed Scholarship in 2005, the Houston Texas Exes Endowed Scholarship in 2006 and the V.F. "Doc" Neuhaus Endowed Presidential Scholarship, the Texas women's athletic department's highest endowed honor, in 2007.

A native of Dillsboro, Indiana, Robinson completed her bachelor's degree in kinesiology in December 2007. She is a member of the CSCAA and the American Swimming Coaches Association.

WHAT THEY ARE SAYING...

"This promotion is great news for Katie personally and the Northwestern program as a whole. In the last few years, Northwestern has made large strides as a program and will continue to under her leadership. This really is a great opportunity for her and all women in the sport of swimming and diving."

Terri McKeever
Head Coach, University of California-Berkeley

"Northwestern University has hired a real star as its Director of Swimming & Diving. I've watched Coach Robinson's growth since 2008 when she was on the staff at the University of Virginia. Her leadership and coaching focus has always been student-centered. She has a plan for building a successful program which is based on her strong desire for developing student-athletes in all of their experiences and as a result developing future leaders. Coach Robinson will set the bar for levels of high achievement in academics and in competition."

Craig Littlepage
Director of Athletics Emeritus, University of Virginia.