The River Town Classic takes place January 5-8 at South Dearborn High School.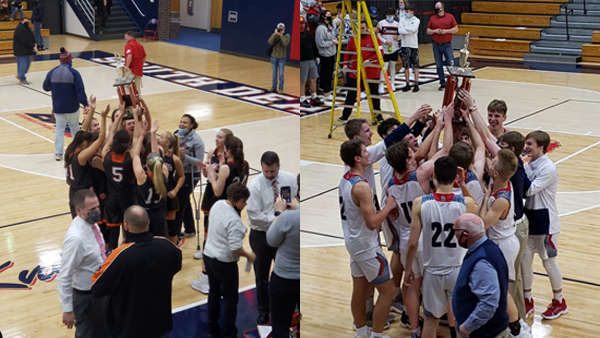 The Lawrenceburg Lady Tigers and South Dearborn Knights celebrate their 2021 River Town Classic championship wins. Photos by Travis Thayer, Eagle Country 99.3.
(Aurora, Ind.) - Four schools will battle for supremacy in basketball and cheerleading this week at the River Town Classic.
The 22nd annual tournament takes place Wednesday, January 5 through Saturday, January 8 at South Dearborn High School.
The South Dearborn boys and Lawrenceburg girls are the defending champions on the basketball floor, while South Dearborn's cheerleading squad seeks to set a record for most consecutive cheer competition wins.
Last year, South Dearborn captured their first River Town Classic championship since 2013, defeating Rising Sun 49-32. The total score of 81 points set the record for the fewest points scored in a boys championship game. The Knights were led by tournament MVP Eli Hoffman and All-Tourney selections Reese Willoughby, Tobie Teke, and Quentin Stevens.
Hoffman and Willoughby are back this year to power the Knights. Hoffman enters the tournament averaging 16.4 points per game and is just 37 points away from reaching the 1,000-career-point mark.
South Dearborn (7-2) has momentum coming into the RTC, having just won the Morristown Tournament last Thursday. The Knights came back to beat Covenant Christian in the title game after being down 15 points with only five minutes to go in the fourth quarter. In overtime, Eli Hoffman would hit the game-winning shot to give the Knights the 52-51 win.
At the RTC, the Knights will meet Switzerland County (4-5) in the first round on Thursday. The Pacers have had a resurgent season after finishing 3-21 a season ago.
Switzerland County is led by freshman phenom Cam Craig, who is averaging 20.9 points per game. Bryce Wrightsman (8.0 PPG), an All-RTC selection in 2021 is back to lead a senior class that also features Bryce Turner (9.3 PPG) and Ben Hicks (7 PPG).
On the other side of the bracket is the Lawrenceburg Tigers and Rising Sun Shiners.
The Tigers have had a lot of success at the RTC in recent years, winning five of the last seven championships. Lawrenceburg and South Dearborn are currently tied with eight RTC championships in the 21-year history of the event.
Lawrenceburg enters the tournament (8-3) after going 2-2 at the Richmond Tournament last week. The Tigers are led by a tremendous senior class, including 6'8" forward Jackson Bobo, who is averaging 13.9 points, 5.6 rebounds, and 2.5 blocks per game. Lawrenceburg also gets key contributions from Garrett Yoon, Dahya Patel, Logan Rohrer, and Cooper Bobo. These four players combine to average 32.5 points per game.
Their first-round opponent, Rising Sun, is coming into the RTC playing their best basketball of the season. The Shiners have won three of their last four games after starting the season 0-3. They are led by a solid junior class that features double-digit scorers Brady Works (11.5 PPG) and Dylan Martin (10 PPG). Peyton Merica and Damon Carrigan add scoring punch, averaging a combined 17 points per game.
The boys tournament is scheduled to get underway on Thursday, January 6. South Dearborn and Switzerland County will play the first game at 6:00 p.m. Lawrenceburg and Rising Sun will immediately follow. The boys consolation round and championship game will be played on Saturday, January 8. Game one will tip at 6:00 p.m.
*Boys First Round Games Moved to Friday
The Lawrenceburg Lady Tigers will begin their RTC title defense on Wednesday when they take on Rising Sun in the first round. Lawrenceburg has won five consecutive RTC titles, which is the most consecutive tournaments won by any boys or girls team at the RTC.
Lawrenceburg (10-6) is led by last year's tournament MVP Kirsten Cross (12.4 PPG) and 2021 All-Tourney selection Chloe Meyer (9.2 PPG). The Lady Tigers have also gotten a boost from junior standout Lizzie Redar, who is averaging a team-high 13.1 points per game. Defensively, the Lady Tigers may be the best in the tournament field, allowing only 38.6 points per game.
Rising Sun (5-9) is seeking their first River Town Classic championship in program history. The Lady Shiners have made four appearances in the championship game, including a 56-49 loss to Switzerland County in 2015.
The Shiners are fresh off a 1-1 effort at the Speedway Tournament, where they lost to the host school in the championship game. Junior Baylee Morris is their leading scorer at 10.8 PPG. Kieran Groover, Jenna Peelman, and Alyssa Simpson can score, averaging between 6.3 and 8.8 points, respectively.
On the other side of the bracket is Switzerland County and South Dearborn.
The Lady Pacers have the best record of the bunch at 11-3. Coached by former Lady Pacers star Brooke Todd, Switzerland County is looking to get back to the championship for the third consecutive year. However, the Lady Pacers haven't won the RTC since 2016, when Coach Todd was a senior and the MVP of the tournament.
Switzerland County will lean heavily on senior guards Maddie and Jessie Duvall. The sisters are among the top scoring players in the ORVC.
They will face an improved South Dearborn team (4-12) that has won three of their last four games, including a 3rd place finish at the Edinburgh Tournament on December 22.
The Knights are led by junior Natalie Rupp at 9.8 PPG. Emily Elliott has come on strong during her senior campaign, averaging 9.4 PPG. Other key contributors include Bernadette Wismann, Kiersten Dixon, and Jillian Bond.
South Dearborn and Switzerland County will play game one on Wednesday at 6:00 p.m. Lawrenceburg and Rising Sun will immediately follow.
All eight games from the River Town Classic will be broadcast on Eagle Country 99.3 and at www.eaglecountryonline.com. Our River Town Classic broadcasts are presented by Ivy Tech Community College (www.ivytech.edu.)
This year's Cheerleading Competition will take place on Saturday, January 8 at noon. South Dearborn has won the competition four years in a row. With a win this year, South Dearborn would break a tie with Switzerland County from the most consecutive cheer competition wins and increase their record number of overall wins from nine to 10.