Bostic is a three-sport athlete who also competes on the Lady Shiners volleyball and basketball teams.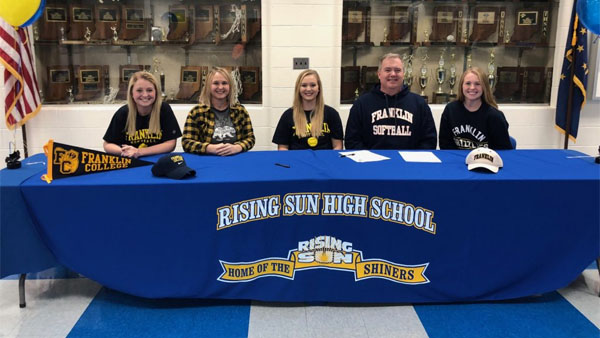 Pictured (left to right): Ali Bostic, Jennifer Bostic, Sydney Bostic, Noel Bostic & Bailee Bostic. Photo by Rising Sun Athletics.
(Rising Sun, Ind.) – A Rising Sun High School student-athlete is set to play softball at the collegiate level.
Sydney Bostic signed her letter of intent November 20 to play softball at Franklin College. She was joined at the signing day ceremony by family members Ali, Jennifer, Noel & Bailee.
As a junior, Bostic hit .507 with 26 RBIs and 11 doubles. For her career, she is a .468 hitter with an on-base percentage of .533 and 65 RBIs.
Bostic still has her senior year to play at Rising Sun. She also plays volleyball and basketball and is a member of the cheer team.