The Sydneys - Sydney Bostic and Sydney Pitts - got the job done for Rising Sun. Find local varsity sports scores with one click, presented by Beacon Orthopaedics & Sports Medicine.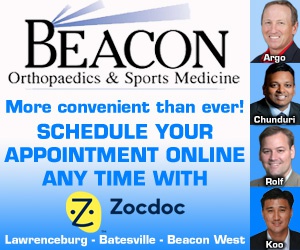 Please report missing scores to 888-537-9724 or email sports -at- eaglecountryonline.com.
BASEBALL
Greensburg 8, East Central 0 – East Central's Jake Jennings was 2-for-3 with a double, but the Trojans could not plate a run
Lawrenceburg 8, Franklin County 1
Connersville 7, South Dearborn 5 - Five South Dearborn players had a multi-hit night, but it wasn't enough as the Knights fell to conference foe Connersville. Ethan Getz, Brady Fentress, Trey Thies, Jace Leonard and Adam Dixon all tallied 2 hits for SD, including a double for Thies. Kane Curry and Tobie Teke each added a hit, Curry's was a double. RBI's were recorded by Leonard, Dixon, Curry (2), and Tristan Rinehart. -SouthDearbornAthletics.com
Batesville 7, Rushville 4 – Batesville freshman Calvin Sherwood went 2-for-3 with 3 RBI and a run scored. Joe Bohman earned the win on the mound, going 6.0 innings while striking out 5 with no walks.
St. Henry (Ky.) 7, Rising Sun 6
South Ripley 11, Jac-Cen-Del 0
Centerville 6, Oldenburg Academy 4
GIRLS TENNIS
East Central 3, Rushville 2
Franklin County 5, South Dearborn 0
Batesville 4, Shelbyville 1
Shawe Memorial 5, Milan 0
Oldenburg Academy 3, Mooresville 2
SOFTBALL
East Central 7, Connersville 3
East Central 6, Connersville 2
Franklin County 11, Lawrenceburg 0 – Franklin County's Kamryn McCool allowed only 1 hit and racked up 8 strikeouts in 5.0 innings. FC has won 9 straight games.
Rising Sun 19, Oldenburg Academy 2 – The Sydneys got the job done for Rising Sun. Sydney Bostic was 2-for-3 with 4 RBI. Sydney Pitts had a double and 3 RBI. Pitts also pitched all 5 innings with 10 Ks, 4 hits, 2 unearned runs, and no walks.
Milan 14, Switzerland County 2 – Milan was led by Taryn Cline, who had 4 RBI on 2-for-3 hitting. Alexa Burton went 2-for-4 with 3 RBI and a run scored. Lexi Wert and Erin Widener combined to strike out 5 Switz batters in 5.0 innings. Widener earned the win, allowing no hits or walks in 2.0 innings of work.
Jac-Cen-Del 10, South Ripley 0