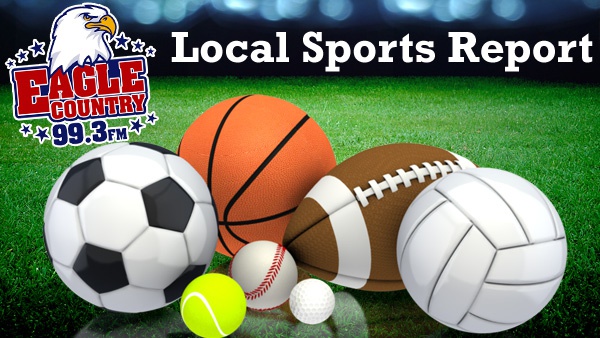 It was a busy weekend of high school basketball, swimming, and wrestling.
Please report missing scores and statistics to 888-537-9724 or email sports -at- eaglecountryonline.com.
FRIDAY, DECEMBER 7
BOYS BASKETBALL
Batesville 65, Lawrenceburg 44 - Austin Siefert led the Bulldogs in scoring with 19 points, followed by Robert Raver with 16. Lawrenceburg's Gavin Yoon led the Tigers with 13 points and 4 assists. Mitch McCool and Kamar Chenault each added 6 points.
Greensburg 59, East Central 46 – Andrew Welage led Greensburg with 18 points, 4 rebounds, 8 assists and 3 steals. Luke Collinsworth led East Central with 19 points.
Madison 58, South Dearborn 42 – Alex Shackelford posted 9 points for South Dearborn. The Knights shot just 26 percent from the field.
Rushville 33, Franklin County 25 – Franklin County's Clayton Spurlock scored 11 and Jordan Floyd had 9 points.
Switzerland County 59, Rising Sun 41 – Damian Breek led Switz to the victory with 18 points, while Dalton Tingle had 16 and Tyler Konkle posted 14. For Rising Sun, Noah Pflum scored 10 while Nick Koons and T.J. Manifold each had 8 points.
Milan 78, South Decatur 77
North Decatur 50, Jac-Cen-Del 49 – Justin Ohlmansiek led the Eagles with 21 points. Brandon Baber had 9.
South Ripley 60, Shawe Memorial 34
Oldenburg Academy 58, Seton Catholic 56 – Oldenburg's Eli Sporleder had 16 points and 5 rebounds. Kris Hetzer tallied 11 points, 2 assists, and 2 steals.
SATURDAY, DECEMBER 8
BOYS BASKETBALL
South Dearborn 45, Franklin County 33 – Eagle Country 99.3 Feature Game – South Dearborn's Chris Moeller gave his team a spark as Franklin County was mounting a fourth-quarter comeback. He finished the game with 12 points.
Ross (Ohio) 74, East Central 73 overtime – Trevor Becker starred for East Central with 29 points.
Plainfield 58, Batesville 48
Milan 100, Waldron 59
Milan Basketball! pic.twitter.com/sHGDZQH7ga

— Larry Wert (@lwert22) December 9, 2018
Brownstown 56, South Ripley 41
Indian Creek 64, Oldenburg Academy 45 – Jake Johnson posted 19 points and 8 rebounds for OA. Andrew Oesterling chipped in with 10 points, 2 rebounds, and 2 steals.
GIRLS BASKETBALL
Lawrenceburg 45, Connersville 43 – Lawrenceburg's Juliana Kemper went off for 25 points and 15 rebounds. She also had 4 assists and 4 steals. Macey Radenheimer added 9 points and 3 assists.
South Ripley 53, Franklin County 48 – South Ripley's Elexah Roepke scored her 1,000th career point.
Edinburgh 56, Milan 48
Jac-Cen-Del 43, Morristown 27 – Mariah Day scored 17 for JCD, while Paige Ledford added 12 points and 12 rebounds.
Switzerland County 50, Shawe Memorial 27
WRESTLING
East Central swept five opponents at the Pendleton Heights Super 6 Tournament on Saturday. The Trojans defeated Beech Grove, Elwood, Muncie Central, Winchester, and Pendleton Heights.
Batesville went 2-2 at the Rushville Duals on Saturday. The Bulldogs earned wins over Greensburg and Connersville, while falling to Centerville and Rushville.
SWIMMING & DIVING
Lawrenceburg boys and girls both second
The Lawrenceburg High School swim team was at the Eastern Hancock Invitational on Saturday. They performed well. The LHS girls were in second place with 225 points, just a point behind the champion Centerville's 226. The LHS boys tallied 202 points to place second to Eastern Hancock with 271. First place finishes for Lawrenceburg inlcuded Jackson McCool (200 Free, 100 Free), Pablo David (100 Fly), and Jonah Ruszczewski (100 Backstroke).
Trojan Boys win EC Relays
The East Central AquaTrojans boys came out victorious at the EC Swim Relays on Saturday in St. Leon. The EC boys scored 94 to defeat Connersville's 60, New Palestine's 48, Greenburg's 42, and Greenwood's 40. The EC girls placed third in the girls competition, as Greenwood won the team title.
Event #18 150 Breaststroke Relay (Bessler, Krider, Shipman) take 1st and the t-shirts! #AquaTrojans #ECRelays pic.twitter.com/jX9f3tPSav

— ECHS Swim Team (@ECHS_Swim) December 8, 2018