There are many ways you can help donate to the cause this week.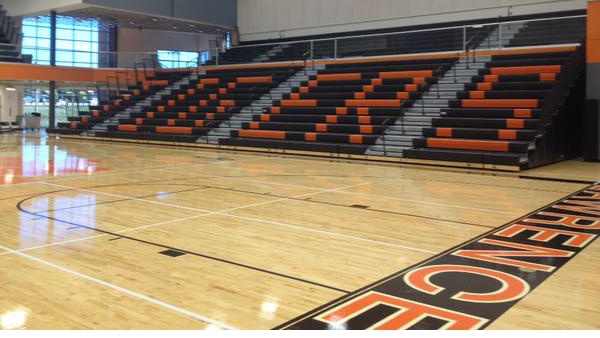 (Lawrenceburg, Ind.) - Lawrenceburg and South Dearborn will battle on the hardwood on Friday, but this installment of the rivalry extends well beyond the court.
Nearly a month ago, Tigers head coach John Blackwell launched a GoFundMe page to help raise funds for the Coaches vs. Cancer initiative. The goal is to raise at least $10,000, which would be the largest, single donation from an Indiana high school basketball game to Coaches vs. Cancer.
On Monday evening during Crunch Time, Coach Blackwell announced that the fundraising total has surpassed the $8,000 mark.
The fundraising got off to a fast start as community members quickly raised over $1,000 in an effort to get Coach Blackwell and Coach Reinhardt to wear colorful suits during Friday's game. The GoFundMe page currently sits at $3,915.
CRUNCH TIME CLIP: DOUBLE T AND JB DISCUSS COACHES VS. CANCER ACTIVITIES
Another $4,300 has been generated in t-shirt sales at Ohio Valley Screen Printing.
Fundraising efforts are continuing this week. Students at Lawrenceburg and South Dearborn are competing in a donation drive. The winning school will earn the opportunity to smash a pie in the face of the opposing school's football coach at halftime of Friday's game. Rand Ballart and Ryan Knigga have graciously agreed to participate.
On Thursday, February 20, former Lawrenceburg and South Dearborn basketball stars will compete in an alumni game at Lawrenceburg High School. Admission is $5 with all proceeds going towards the donation total. Logan Lawrence (Lawrenceburg) and John Tedesco (South Dearborn) will captain the teams. The losing team's captain will also take a pie to the face on Friday night.
While on the topic of food, prior to Friday's boys varsity contest, a pre-game meal will be held in the LHS cafeteria. JTM is providing a BBQ dinner. Cost is $10. Those planning to attend are asked to reserve a seat in advance by emailing LHS Director of Basketball Operations, Mason Jeffreys at m.jeffreys73@gmail.com. Seating is limited to 200 guests.
Community members will have one last opportunity to donate to Coaches vs. Cancer when a donation bucket is passed around at Friday night's game.
Attendees are reminded and encouraged to wear their Coaches vs. Cancer t-shirts to the game. Knights in red, Tigers in orange.
Donations can also be made at the Coaches vs. Cancer GoFundMe page.
RELATED STORIES:
L'Burg, SD Team To Raise Funds For Coaches Vs. Cancer