An alumni game, pre-game dinner, t-shirt sales, student body drive and social media fun will all surround the Tigers and Knights game on February 21.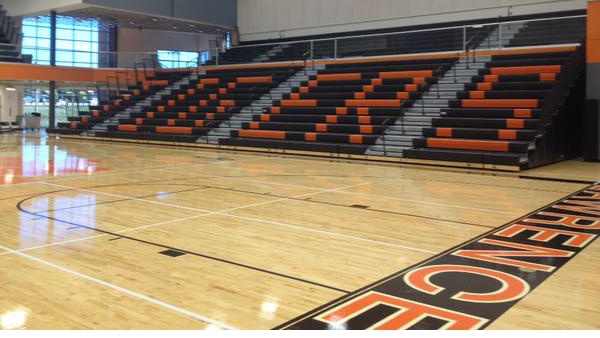 Lawrenceburg and South Dearborn fans are asked to pack the LHS gym on February 20 and February 21 for two basketball games that will support the Coaches vs. Cancer initiative. Photo by Travis Thayer, Eagle Country 99.3.
(Lawrenceburg, Ind.) – Lawrenceburg and South Dearborn are rivals in the "sports world," but the two schools are coming together to help people with a real-world problem.
On February 21, Lawrenceburg and South Dearborn's boys basketball teams will meet at Lawrenceburg High School. That game has been dedicated as "Coaches vs. Cancer Night."
The idea for a big fundraising event came to Tigers head coach John Blackwell after playing South Dearborn in the Rivertown Classic.
"After our very competitive Rivertown Classic game with South Dearborn on January 9, I put it together that our second game with them will be on the 20th anniversary of my dad losing his battle to cancer," said Coach Blackwell. "A home game against a good South Dearborn team on the 20th anniversary of my dad losing his battle to cancer? Even though I think about basketball and my dad every single day, admittedly that will not just be another day for me."
Coaches vs. Cancer is a well-known initiative within the sport community. Funds raised for Coaches vs. Cancer are used to raise awareness and to support cancer research with the hope of finding a cure for the devastating disease.
Lawrenceburg and South Dearborn hope to raise enough money to make the single biggest donation to Coaches vs. Cancer from an Indiana high school basketball game. The fundraising goal is $10,000.
"After that Rivertown game, I brainstormed ways to do more than just pass donation buckets around the bleachers at LHS on February 21, which we will do," said Blackwell. "I brainstormed ways to bring the great communities that make up Lawrenceburg and South Dearborn together to do something special for a cause that has most likely affected everyone in one way or another. We may not meet the people who directly benefit, but let's come together to help someone have their dad, mom, brother, sister, husband, wife, son, daughter, or friend here on Earth longer than they otherwise would."
The fundraising has already started by having a little fun on social media. A GoFundMe page set up by Coach Blackwell has already generated $1,975 towards a $2,500 goal. This particular fundraiser challenged community members to raise enough funds for Coach Blackwell and Coach Reinhardt to were brightly colored jackets during the game on February 21.
Tigers and Knights vs cancer. 1000 total likes and $1000 on this gofundme and @blackwelljk1 and @coachreinhardt1 coach the Feb 21 game in these sweet jackets. $2000 and there might be matching pants! Share this tweet. Chip in if you can. It all adds up!https://t.co/FwC9U95QGg pic.twitter.com/9EKXjB847x

— Lawrenceburg Tigers Basketball (@Tigers_Hoops) January 24, 2020
I am honored to be apart of this game and the great cause," said Knights head coach Kevin Reinhardt. "We all have or know someone who has been affected by cancer and I believe that this not only provides us with an opportunity to help in a small way to find a cure, but also use the game of basketball to unite and teach our young men the importance of being a servant leader in their community. Coach Blackwell has done an amazing job in organizing this event. Also, I am excited to see him look like Lloyd Christmas from "Dumb and Dumber" when we play in his orange suit."
Former Lawrenceburg and South Dearborn basketball stars are helping with the fundraising by coming together for an alumni game on Thursday, February 20 at 7:00 p.m. at LHS. Class of 2018 graduates Logan Lawrence (LHS) and John Tedesco (SD) have agreed to be "Team Captains." Eagle Country 99.3's Travis Thayer, a 2006 LHS grad, will play for the Tigers alumni team.
Cost to attend the alumni game is $5. All proceeds will go towards the $10,000 fundraising goal.
The two student bodies will also compete with a student body donation drive. Football coaches Rand Ballart and Ryan Knigga have have tentatively agreed to take a pie to the face at halftime of the February 21 game if their school gets beat by the other in the student body donation drive.
There will also be a pre-game dinner in the LHS cafeteria on February 21. Cost is $10. Those planning to attend are asked to reserve a seat in advance by emailing LHS Director of Basketball Operations, Mason Jeffreys at m.jeffreys73@gmail.com. Seating is limited to 200 guests.
Before gameday, fans will need to choose sides. Ohio Valley Screen Printing has designed a commemorative t-shirt in orange and red. Fans are asked to wear the shirts to the Tigers vs. Knights game. The shirt must be pre-ordered by February 12. Cost is $12. Shirts can be picked up the week of the game at either LHS, SDHS or OVS. To purchase a shirt, visit https://tigersknightsvscancer2020.itemorder.com/sale.
And finally, fans are asked to pack the stands on February 21. Come out and support South Dearborn and Lawrenceburg while donating to a great cause.
"Let's show the tri-state and the entire state how special this part of the state is," said Blackwell. "Let's show our togetherness and generosity and the intensity of our sports rivalry all on the same night. As everyone here knows, there's no better place to live than southeast Indiana. Let's put that spirit on display to be captured by everyone on this special night. It's an honor to be a Lawrenceburg Tiger, and with that position it becomes an honor to be the biggest rival of the South Dearborn Knights. More than either of those things, it's always been an honor to call southeast Indiana home with all of you."