The 2019 season gets the green flag on March 30.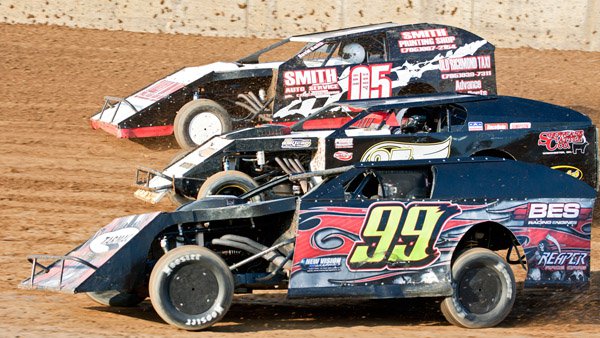 Photo by Tim Thomas.
(Lawrenceburg, Ind.) – Dirt will be flying at Lawrenceburg Speedway beginning this March.
The 3/8-mile-high-banked clay oval track will host races for the 69th straight season when it welcomes the USAC Sprint Cars, KOI Auto Parts UMP Modifieds and Bessler's U Pull & Save Hornets on Saturday March 30.
The full 2019 schedule features 22 events. Among the fan favorites is the World of Outlaws winged sprint car series on May 27 and the annual Nigh of Destruction on July 27.
Other highlighted events include USAC Indiana Sprint Week on July 21, Dick Gaines Memorial on August 17 and Night of Champions on September 21.
For more information, visit www.lawrenceburgspeedway.com.
2019 Schedule
March 30 – Opening Night
April 6 – Kelsey Chevrolet Sprints, KOI Auto Parts Modifieds, Impact Sports Pure Stocks, Besser's U Pull & Save Hornets
April 13 – Youth Sports Night
April 20 – Scout Night
May 4 - Kelsey Chevrolet Sprints, KOI Auto Parts Modifieds, Impact Sports Pure Stocks, Besser's U Pull & Save Hornets
May 11 – Service Night
May 18 – BOSS/Kelsey Chevrolet Sprints, KOI Auto Parts Modifieds, Impact Sports Pure Stocks, Besser's U Pull & Save Hornets
May 27 – World of Outlaws
June 8 – USAC Indiana Midget Week
June 15 – Family Night
June 29 – CDL Night
July 6 – Merrill Downey Memorial
July 21 – USAC Indiana Sprint Week
August 3 - Kelsey Chevrolet Sprints, KOI Auto Parts Modifieds, Impact Sports Pure Stocks, Besser's U Pull & Save Hornets
August 17 – Dick Gaines Memorial
August 24 – Hornet Nationals
August 31 – Family Night #2
September 14 - Kelsey Chevrolet Sprints, KOI Auto Parts Modifieds, Impact Sports Pure Stocks, Besser's U Pull & Save Hornets
September 21 – Night of Champions/Final Points Race
October 5 – USAC Sprint Cars/Fall Nationals