The IHSAA Girls Tennis State Tournament brackets were released Monday evening.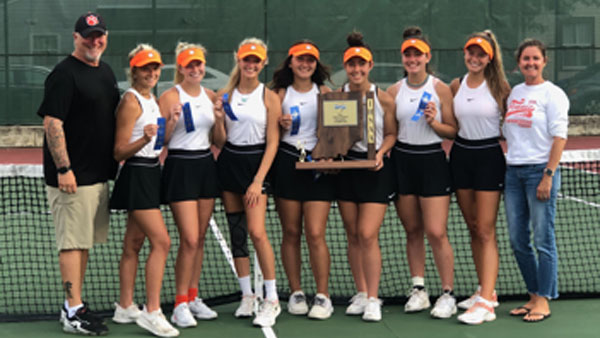 Lawrenceburg will start their sectional title defense on Wednesday. File photo.
INDIANAPOLIS – The road to the state finals starts this week for hundreds of girls tennis teams across the state.
The sectional pairings for the 47th annual IHSAA Girls Tennis State Tournament were revealed on Monday evening.
A total of 306 schools were drawn and placed into brackets for the team tournament that begins Wednesday, May 18 and runs through Saturday, May 21.
Locally, six teams were drawn into Sectional 16 at East Central:
M1: Lawrenceburg vs. Milan
M2: Batesville vs. East Central
M3: South Dearborn vs. M1 winner
M4: Oldenburg vs. M2 winner
Championship: M3 winner vs. M4 winner
Lawrenceburg is the defending champion, going through Batesville, Milan, and Oldenburg Academy a year ago. The Lady Tigers would go on to win the regional for the second time in school history before falling in the semi-state to Sullivan.
Individually, East Central's Heidi Kane made a run to the regional championship last year. She just won the EIAC championship at #1 singles over the weekend.
Sixty-four team sectional winners will advance to the regional on May 24-25.
Semi-state matchups will be played on May 28, followed by the eight-team state finals on June 3-4.
The full sectional draw can be found here.
About the Draw
To conduct the random drawing for the state tournament, the IHSAA places ping-pong balls representing each school in a given sectional into a lottery-style air mix machine. A motorized fan in the bottom of the machine blows the balls around the inside of the transparent container and air then forces each ball up through a tube in random order. For example, the first ball retrieved from the machine will be the first placement in the first match with the second ball representing their opponent in that match. The third ball to come out is the third placement in the second match with the fourth ball their opponent in the second match. That same method is followed through all sectionals, regionals and semi-states to determine every team's placement in the bracket.