The 2018-19 All-Decade team features student-athletes from the HCAC member institutions that competed in the Heartland between 2008-09 and 2018-19.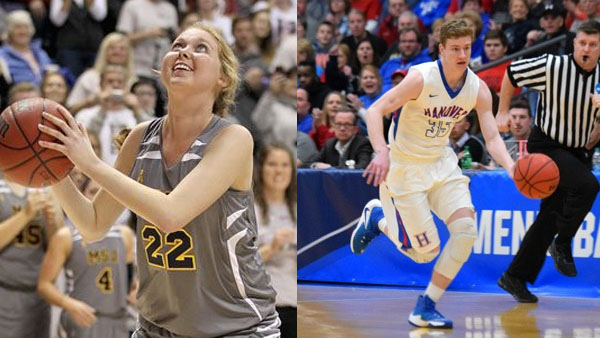 (Indianapolis, Ind.) – Two former EIAC greats have been named to the Heartland Collegiate Athletic Conference All-Decade Team.
The HCAC is celebrating their 20th anniversary by honoring the best student-athletes that competed between 2008-09 and 2018-19.
Each member institution had two selections to the All-Decade Team, including Lauren Hill from Mount St. Joseph University and Wes McKinney from Hanover College.
Hill's story touched the lives of many across the country in 2014 as she battled terminal brain cancer. The Lawrenceburg High School graduate defied the odds living much longer than doctors originally anticipated. She also fulfilled her dream of playing college basketball at Mount St. Joseph. She made her debut on November 2, 2014 in front of a sold-out crowd at Xavier University's Cintas Center. Hill scored four points in a game that was covered and broadcasted nationally.
Since her passing, the Lauren Hill Tribute Fund for The Cure Starts Now Foundation has raised millions of dollars for cancer research.
Hanover College's Wes McKinney put together a magnificent four-year career to earn a spot on the All-Decade Team.
McKinney helped Hanover to back-to-back 20-win seasons in 2016 and 2017, which resulted in NCAA Division III National Tournament appearances. He holds the school-record for three-point field goals with 243 and is the program's sixth-leading scorer with 1,664 career points.
The former Batesville Bulldogs star is a two-time preseason All-American, a 2016-17 D3hoops.com All-American and a two-time CoSIDA Academic All-American. In 2016, he was also named the HCAC Men's Basketball Player of the Year.
See the full HCAC All-Decade Team at www.heartlandconf.org.