The annual competition brings together the nation's top signal callers.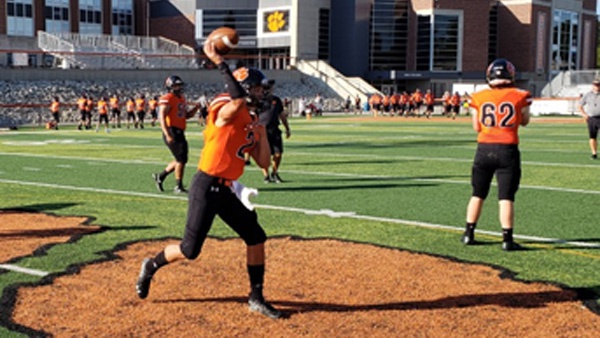 Garrett Yoon. Photo by Travis Thayer, Eagle Country 99.3.
(Lawrenceburg, Ind.) – One of the top high school quarterbacks in the state of Indiana has been invited to participate in the nation's premier quarterback competition.
Lawrenceburg junior Garrett Yoon has been selected to compete at the Elite 11 Regionals on May 2 at Grand Park Sports Complex in Indianapolis. Yoon will be allowed to bring two to three pass catchers to run routes and catch balls during the Elite 11 event.
His favorite targets in 2020 were Dahya Patel and Aiden Gilmour.
As a junior, Yoon completed 62 percent of his passes, totaling 2,252 yards and 27 touchdowns. He also ran for 1,083 yards and 14 scores. Yoon is still awaiting his first official D-1 offer. He is being looked at by the likes of Miami (Oh.), Columbia, Eastern Michigan, and Akron, among others.
Other tri-state area QB's invited to the Elite 11 Regional are St. Xavier's Brogan McCaughey and Moeller's Noah Geselbracht.
Founded in 1999, the Elite 11 brings together the nation's top signal callers each offseason to compete and improve their skillset both on and off the field.
Participants will enjoy a five-hour curriculum that includes testing and position-specific instruction by some of the top quarterback coaches and mentors in the nation. Those who show the highest level of skill, acumen and desire can earn a spot at the Elite 11 Quarterback finals in the summer of 2021.
For more information, visit www.elite11.com/regionals.
Blessed to have received an invite to the @Elite11 regionals‼️ready to work!! @Stumpf_Brian @tony_pike15 @lhstigercoach @AllenTrieu @IndianaPreps @DilfersDimes @QBHitList @The_Prototyp @JoshHelmholdt pic.twitter.com/7FvgQsV5uq

— garrett_yoon2 (@GarrettYoon2) January 29, 2021
Thanks @tony_pike15 for another great workout!! @Dahya_Patel88 @lhstigercoach @QBHitList @IndianaPreps @The_Prototyp @Lemmingscouting @AllenTrieu pic.twitter.com/m1IPv2B98U

— garrett_yoon2 (@GarrettYoon2) January 24, 2021