Trabel will suit up against the Kentucky Juniors on June 5.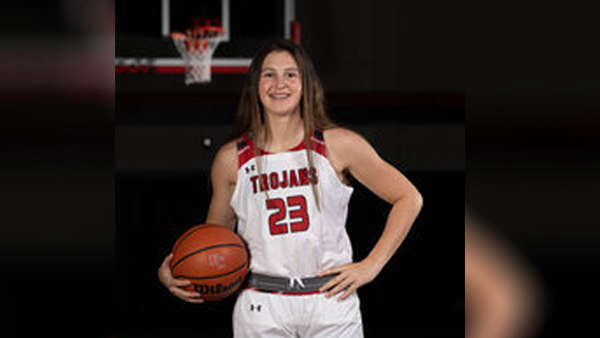 Photo via www.ectrojansbasketball.com.
INDIANAPOLIS – East Central High School junior Josie Trabel has been named an Indiana Junior All-Star.
Eighteen players were selected to the Junior All-Star Team on Friday.
The players were divided into three separate teams, the core group, red group, and blue group.
Trabel is among six players that will play for the red group on June 5 vs. the Kentucky Juniors. Had Trabel been selected to the blue group, she would have had the opportunity to play against East Central teammate, Hope Fox, who was selected to the Indiana Senior All-Star Team.
RELATED: Hope Fox Becomes First Indiana All-Star from East Central
The 2022 Girls Junior All-Star team was selected through a process that allows all IBCA-member head coaches to nominate players through the IBCA all-state process.
Trabel is East Central's first ever Indiana Junior All-Star.
Her junior season was a record-breaking one. Trabel set the school record for career points with 1,353, in addition to single-season records for points (478), and field goals made (191)
Trabel also set a couple of single-game records, including field goals made (15 in sectional title game), and points (36 in sectional title game)
Overall, Trabel averaged 17.7 points, 7.2 rebounds, 2.7 assists, and 2.4 steals per game during the 2021-22 season.
For her efforts, she earned the following honors, IBCA Supreme-15 Underclass All-State, ICGSA First Team All-State, EIAC All-Conference, EIAC MVP, and All-Regional Team.
The Indiana Junior All-Star red group will take on the Kentucky Juniors at Bedford North Lawrence High School on Sunday, June 5 at 2:00 p.m. Tickets cost is $8 at the door for adults and school-aged students.
The full Indiana Junior All-Star Team is listed below.
GIRLS CORE GROUP (playing on June 5 and June 8)
Name, Ht., Pos., PPG, High School, College Choice
Laila Hull, 6-0, F, 20.3, Zionsville, undecided
RaShunda Jones, 5-8, G, 11.6, South Bend Washington, Purdue
McKenna Layden, 6-2, F, 22.1, Northwestern, Purdue
Karsyn Norman, 5-6, G, 15.0, Bedford North Lawrence, undecided
Amiyah Reynolds, 6-0, G/F, 9.2, South Bend Washington, Maryland
Ashlynn Shade, 5-10, G, 20.9, Noblesville, Connecticut
GIRLS RED GROUP (playing on June 5 vs. Kentucky Juniors)
Name, Ht., Pos., PPG, High School, College Choice
Asiah Baxter, 5-10, F, 15.1, Warren Central, undecided
Riley Makalusky, 6-2, F, 17.1, Hamilton Southeastern, undecided
Hailey Smith, 5-9, G, 10.4, Fishers, undecided
Saige Stahl, 6-1, F, 17.9, Columbus East, undecided
Josie Trabel, 6-0, F, 17.7, East Central, undecided
Amber Tretter, 6-1, F, 17.4, Forest Park, undecided
GIRLS BLUE GROUP (playing on June 8 vs. Indiana Seniors)
Name, Ht., Pos., PPG, High School, College Choice
Ashlynn Brooke, 5-7, G, 25.9, Pioneer, Ball State
Cristen Carter, 6-3, C, 11.4, Ben Davis, undecided
Asia Donald, 5-9, G, 23.5, Hobart, undecided
Bailey Kelham, 5-11, G, 16.2, Garrett, undecided
MaKaya Porter, 6-0, F, 19.0, Mishawaka Marian, undecided
Renna Schwieterman, 6-0, G, 18.3, Jay County, Purdue-Fort Wayne
Head coach: Bob Lapadot, Garrett
Assistant coach: Tony Hasenour, Forest Park