Go Trojans and Go Tigers! Bring the trophies home.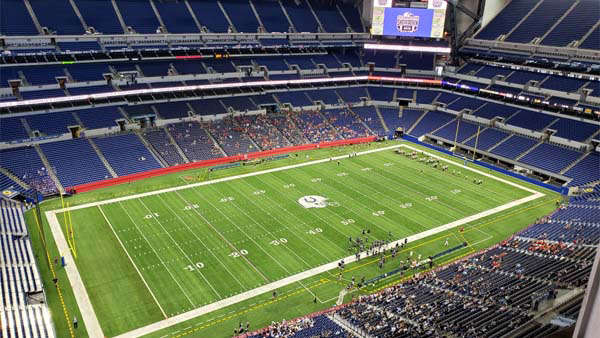 Photo by Travis Thayer, Eagle Country 99.3.
(Dearborn County, Ind.) - For the first time in the history of the IHSAA Football State Tournament, two teams from Dearborn County will play for respective state championships in the same season.
On Friday, East Central and Lawrenceburg both punched their tickets to the IHSAA Football State Championship in Indianapolis.
East Central won their Class 4A Semi-State matchup with Indianapolis Roncalli in dramatic fashion. It was a back and forth affair that saw Roncalli have the opportunity to win the game in regulation with a last second field goal attempt. However, East Central's Eli Aston had other plans, blocking the Royals' attempt at the game winner.
In overtime, Roncalli had the first shot to play offense and their drive ended on a fumbled snap on fourth down that was recovered by Louis Gray. The Trojans offense came out and run two plays down to the five yard line. On third down, the Trojans elected to go for the game-winning, 22-yard field goal, which was nailed by Nathan McFee.
The field goal is good. FINAL: East Central 24, Roncalli 21. pic.twitter.com/Dt8XgDubZW

— Akeem Glaspie (@THEAkeemGlaspie) November 19, 2022
East Central is back in the state championship for the first time since 2017 when they defeated Lowell 14-7.
This time around, the Trojans take on New Prairie. The Cougars won a thriller of their own on Friday, coming from behind to defeat Kokomo. Trailing 9-3, New Prairie successfully tried an onside kick. Two plays later, they scored and tacked on the PAT to take a 10-9 lead.
New Prairie is a heavy run team. They are led by two 1,000-yard runners, Noah Mungia and quarterback Marshall Kmiecik. Mungia has rushed for 1,868 yards and 21 touchdowns, while Kmiecik has totaled 1,331 yards and 14 touchdowns on the ground. Kmiecik has also tossed 16 touchdowns compared to five interceptions.
The Trojans and Cougars will clash in the 4A State Championship at Lucas Oil Stadium. Kickoff is scheduled for 3:00 p.m.
East Central (#4 Media, #4 Coaches) is seeking their third state championship in program history. New Prairie (#6 Media, #7 Coaches) has one state championship to their name, winning the 4A title in 2014.
In Class 3A, the Lawrenceburg Tigers continued to dominate on their way to securing a spot in the state championship game. On Friday, the Tigers dispatched of Monrovia by a score of 35-7.
Teagan Bennett and Alex Witte continued to power the Tigers offense, combining for 271 rushing yards and four touchdowns on the ground. Witte added a fifth touchdown of the night on a 41-yard heave from quarterback Logan Ahaus.
The Tigers defense was stout yet again, limiting Monrovia to under 100 yards of total offense. The Bulldogs' only score came on a 93-yard kickoff return from Dustin Kostrzewski.
@LBurgFootball 35, Monrovia 7 - Final

Tigers will play Chatard in the 3A State Championship Game! pic.twitter.com/QtKkHLjvsc

— Eagle Country 99.3 (@eagle993) November 19, 2022
Since a week one loss to East Central, the Tigers have allowed only 47 points over their 13-game winning streak. Lawrenceburg continues to have the top scoring defense in the state at 6.07 points allowed per game.
Lawrenceburg (#9 Media, #5 Coaches) is seeking their third state championship in program history on Saturday. They will go up against perennial power Indianapolis Bishop Chatard. The Trojans (#6 Media, #3 Coaches) have won 15 state championships, including 11 since 2001.
Chatard advanced to the state championship with a decisive 21-3 win over West Lafayette (#1 in Media, #1 in Coaches).
Kickoff for the Class 3A State Championship is scheduled for 3:00 PM on Saturday.
Eagle Country 99.3 will carry the 3A State Title game with coverage starting at 2:40.
A look inside ⁦@LucasOilStadium⁩ where our high school student athletes will compete for a state championship this weekend! #IHSAA pic.twitter.com/EGwtv9WnCs

— IHSAA (@IHSAA1) November 21, 2022