East Central had the second-most all-conference selections, including EIAC MVP Molly Gregg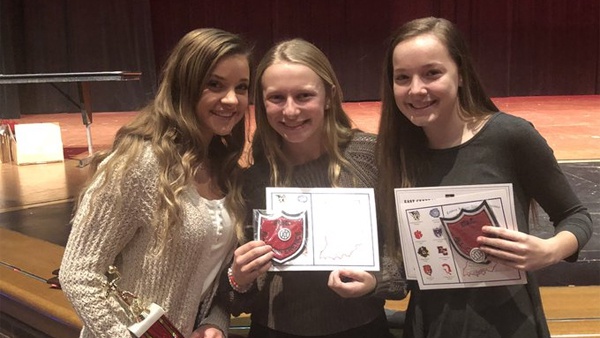 2019 EIAC Volleyball MVP Molly Gregg with teammates and fellow all-conference selections Alex Disbro and Hope Fox. Photo by EC Volleyball (@EastCentralVB)
(St. Leon, Ind.) – Eight volleyball players from East Central, Lawrenceburg and South Dearborn headline the All-EIAC Team.
Lady Trojans star Molly Gregg was named the 2019 EIAC Volleyball MVP. Gregg was among the conference leaders in assists (139), digs (93) and kills (53), leading the Lady Trojans to a 6-1 conference record.
Gregg was joined on the all-conference team by Alex Disbro and Hope Fox.
Unfortunately for the Trojans, Greensburg took home the conference championship with a 7-0 record. The Lady Pirates had the most all-conference selections with four.
Lawrenceburg finished third in the conference with a 5-2 record. Juliana Kemper, Cora Taylor and Emma Sandford were named All-EIAC.
For South Dearborn, they had two all-conference selections: Jaelyn Lows and Hannah Halbig.
The 2019 All-EIAC Volleyball Team is listed below.
Greensburg (7-0) – Taylor Cooney, Josie Nobbe, Raegan Rigney, Anna West
East Central (6-1) – Molly Gregg (MVP), Alex Disbro, Hope Fox
Lawrenceburg (5-2) – Juliana Kemper, Cora Taylor, Emma Sandford
Batesville (4-3) – Kylie Laker, Macy Prickel
Connersville (2-5) – Erika Smith, Brynnah Ellis
South Dearborn (2-5) – Jaelyn Lows, Hannah Halbig
Rushville (2-5) – Macy Hoeing, Olivia Yager
Franklin County (0-7) – Rachel Bischoff