Get your tickets Trojans fans!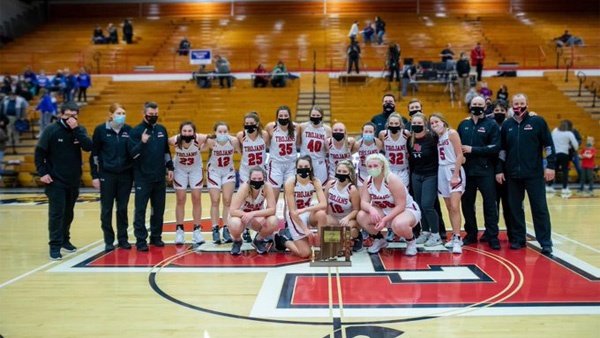 Photo by Sandy Gentile Mahoney, Motion Sports Photography.
(St. Leon, Ind.) – Only a select few were able to be there in person as the East Central Lady Trojans won the Sectional Championship last Saturday night.
It was an incredible three-game stretch, as the Trojans defeated Columbus East, Martinsville and Columbus North to capture their second-consecutive sectional championship. The combined records of those three teams was 43-16.
Now, as the Lady Trojans get set for a huge matchup against #3 Bedford North Lawrence, more people will have the opportunity to support these young ladies in person.
Attendance restrictions are being loosened for Saturday's Regional first round matchup at Bedford North Lawrence. East Central fans will be allotted 1,250 tickets.
Tickets can be purchased at Bedford North Lawrence the morning of the game or in the East Central athletic office until 5:00 p.m. Wednesday, between 8:00 a.m. and 5:00 p.m. Thursday, and from 8:00 a.m. to 3:00 p.m. on Friday.
Cost is $8 a ticket.
East Central and Bedford North Lawrence will tipoff Saturday at 10:00 a.m.
Alright, alright, alright Trojan Fans! It has been announced that we will be granted 1250 tickets for Saturday's Regional game at Bedford! Tickets can be bought at the door that morning or in the EC Athletic office today until 5pm, tomorrow 8am-5pm, & Friday 8am-3pm! $8 a ticket! pic.twitter.com/2TQgrDJWxU

— East Central Girls Basketball (@EastCentralGBB) February 10, 2021