Get your gear and wear it to the Regional on Saturday at Hatchet House.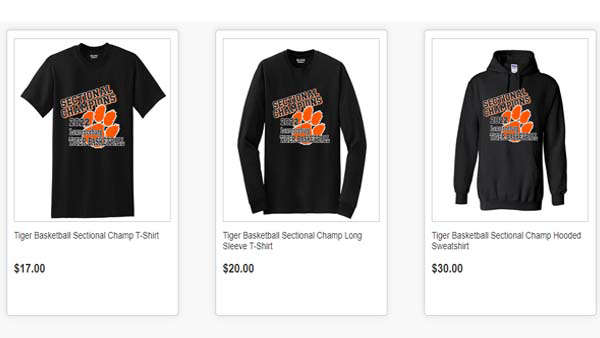 (Lawrenceburg, Ind.) – Time is running out to get your Lawrenceburg basketball sectional championship shirt.
The Tigers boys' basketball program captured their 30th sectional title in program history on Saturday with a 45-39 win over Franklin County.
RELATED: Lawrenceburg Captures 30th Sectional Title, First Since 2009
Sectional champion t-shirts, long sleeves, and hoodies are available at LHS Basketball Sectional Champs 2022 | Ohio Valley Screenprinting | powered by OrderMyGear (itemorder.com) until 3:00 PM Wednesday.
Cost is $17 for t-shirts, $20 for long sleeves and $30 for hoodies. All orders will be ready by Friday, March 11.
Tigers fans are encouraged to purchase a top and wear it to the Regional on Saturday, March 12 at Washington High School.
Lawrenceburg will play Evansville Bosse at 10:30 AM EST.
LHS Basketball Sectional Champs 2022 is open for orders. Place your order now! https://t.co/KQtK5PtjRZ via @OrderMyGear

— Lawrenceburg Boys Basketball (@LburgTigerHoops) March 9, 2022
We need @LHSPEPCLUB4 to get our students to purchase the sectional t-shirt for sale so we can black out the Hatchet House on Saturday!

— Lawrenceburg Boys Basketball (@LburgTigerHoops) March 7, 2022