The Tigers will take on Evansville Bosse on Saturday at the Washington Regional.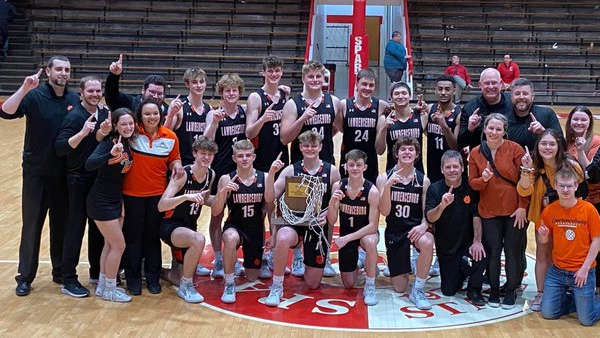 Lawrenceburg celebrates their first sectional championship since 2009. Photo by Lawrenceburg Athletics.
(Lawrenceburg, Ind.) - Until Saturday night, it had been over a decade since Lawrenceburg had won a boys basketball sectional championship.
The Tigers captured the 30th sectional title in program history with a 45-39 win over Franklin County in the title game.
The victory capped off in three wins in five days at Sectional 29.
Lawrenceburg's path to cutting down the net started with Rushville in the opening round. The Tigers fell behind after the first quarter (9-6) but came out strong in the second quarter - opening up a 10-point lead. Rushville would not go away closing the gap to four points at halftime. Lawrenceburg would eventually pull away in the fourth, outscoring the Lions 14-7.
Ashton Craig led the way offensively, scoring 16 points on 7-of-8 shooting. Jackson Bobo added 12 points, and Garrett Yoon had 8 points and 7 assists.
The Tigers then tangled with South Dearborn in the semifinals. Not only was it a game to determine who would play for the sectional title, it was also the rubber match between two teams that spilt their two regular season meetings.
Lawrenceburg would win in dramatic fashion coming back from an 11-point fourth quarter deficit. The Tigers looked like they would win it in regulation, but a couple of costly turnovers allowed Ryan Willoughby (21 points) to tie the game with just seconds to go. Garrett Yoon nearly made a shot from beyond halfcourt to win the game, but Lawrenceburg would have to settle for overtime.
In the extra frame, the Tigers outscored South Dearborn 8-2. Jackson Bobo was clutch from the free throw line going 11-for-12. He ended the game with 15 points, 10 rebounds, and 4 blocks. Garrett Yoon added 15 points, Dahya Patel had 11, and Logan Ahaus and Andrew Myers provided timely three-point shooting off the bench.
Lawrenceburg would have to come from behind one more time to win the sectional. Playing a tough Franklin County team that took out Batesville and Greensburg in the earlier rounds, the Tigers found themselves behind 15-0 in the first half. But like previous games, being down didn't mean the Tigers were out of it.
Logan Ahaus made some big 3's to lead the team with 11 points, while Jackson Bobo continued his steady play throughout the sectional with 10 points. Patel and Logan Rohrer would add nine each.
Defensively, Lawrenceburg held Chad Cox, Franklin County's all-time leading scorer, to nine points in his final high school basketball game.
After soaking in the win, Tigers head coach Brad Cutter took to Twitter to describe his emotions:
"The past 24 hours have been amazing. What an incredible privilege to coach our guys and enjoy my first sectional championship with them. Credit goes to our staff/players for working hard all season and believing in each other! Looking forward to spending another week together!"
The Tigers (20-7) will take on Evansville Bosse (17-9) in the first round of the Washington Regional on Saturday, March 12 at 10:30 AM EST. Should the Tigers win, they would play either #4 Sullivan or #13 North Harrison in the regional championship at 8:00 PM EST.
Eagle Country 99.3 will have full coverage starting at 10:20 AM.
@LburgTigerHoops won the school's 30th boys basketball sectional championship last night. On to regionals next weekend! pic.twitter.com/PtCNdP5ZRe

— Mike Perleberg (@MikedUp84) March 6, 2022