Ben Weidner is an athletic trainer and medical assistant with Beacon who has run five marathons.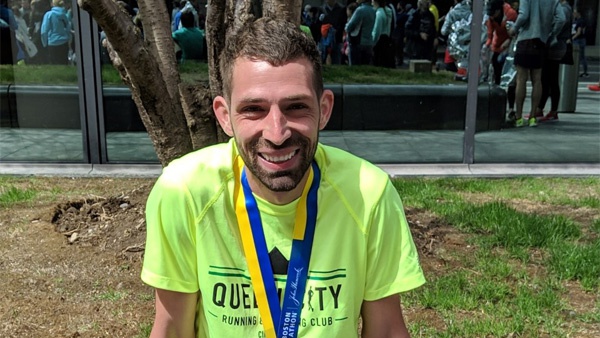 Ben Weidner. Photo provided.
Due to the pandemic, Cincinnati's iconic Flying Pig Marathon canceled all of its in-person spring 2021 events, saying instead there are still plans to hold a full Flying Pig Marathon in the late fall, alongside the Queen Bee Half Marathon. Those in-person events are currently slated for Oct. 29 through 31.
While it is not what our community and the runners are used to, it is comforting to all to plan – and train – in familiar ways. That said, historically, now is when many of you are training for "The Pig" -- whether full or half marathons. "Over my years as an orthopaedic surgeon at Beacon Orthopaedics, I have seen patients with pain and symptoms related to their marathon training – even if they are on track with that training," said Dr. David Argo. "Those symptoms range from pulled muscles, shin splints, stress fractures, knee or ankle pain." All of those can be treated in ways that may allow the patient to still take part in the event. However, whenever possible, it is always best to try to avoid the injury in the first place.
Ben Weidner is an athletic trainer and medical assistant with Beacon who has run five marathons – including Boston (2019), Indianapolis (2019) and "The Pig" (2011, 2017 and 2019) provided seven ways to help you train properly.
1. Purposefully Rest. This includes taking days off and truly going easy on your s "easy" scheduled days. Your body needs to recuperate and recover between long runs and workouts. Strategic rest can help relieve the strain of running.
2. Warm up and Cool Down. Take 5 minutes at the beginning and end of each training run, easing into -- and out -- of it. This is easily done by walking and/or jogging at a slower pace than your running pace for that day.
3. Increase Weekly Mileage by Only 10-20%. This can help runners avoid overuse injuries
4. Don't be Afraid to Cross Train. Instead of running while fighting a nagging injury, are becoming tired, or just need a change of pace, mix it up. Riding the bike, elliptical, or pool running are all good options.
5. Eat a Balanced Diet. You must give your body adequate fuel to enhance your training. Improper nutrition can lead to overall fatigue that interrupts (and may even halt) training. Carbohydrates are essential for powering your body to run.
6. Hydrate. Replace what you have lost when you sweat. Remember to replenish the fluids and electrolytes you lose through exercise. Most sport drinks provide a good balance of fluids and electrolytes to help the body maintain a good balance.
7. Wear Proper Footwear. Go to a running store for your shoes. Let the professionals observe and match your stride and biomechanics to the proper footwear to prevent injuries.
Health professionals at Beacon agree that all runners should incorporate these tips into your training for a safe and healthy running experience. Beyond this overarching advice for all runners, Dr. Argo added that female marathoners should take care to consume three important nutrients during training: iron, calcium, and protein. "Iron is essential for red blood cells to transport oxygen. Calcium aids in protecting bone degradation and increases bone density," said Dr. Argo. "Finally, protein aids in the maintenance and repair of muscle."
If you or someone you love is training for a marathon and experiencing any difficulties, it may be worthwhile to see a medical professional. Diagnostic appointments are available at Beacon West, Lawrenceburg and Batesville, along with Saturday morning injury clinics and urgent care at Erlanger and Summit Woods.
Go to www.beaconortho.com or call 513-354-3700 for an appointment. All 13 Beacon locations are seeing patients. Striving to ensure patient and staff health, Beacon offers Telehealth Video Visits and when seeing patients in person, they are using all approved safety protocols, including temperature checks, masks, hand sanitizing. Providing a safe environment to diagnose and recommend the next steps for any injury is always the right thing to do.