Listen to coaches from Lawrenceburg and East Central share their thoughts on tonight's season-opening rivalry game.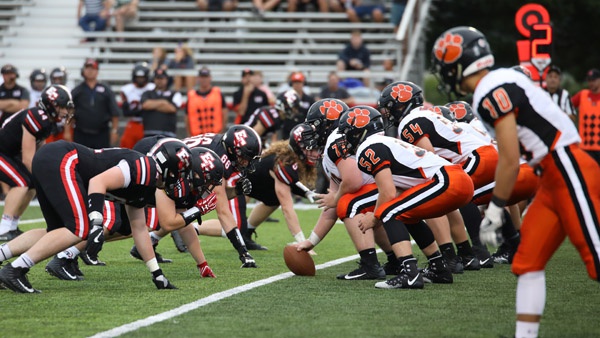 East Central defeated Lawrenceburg in the 2018 opener in St. Leon. Lawrenceburg will try to stop the losing streak to EC at The Pit on Friday, August 23. Photo by Sandy Mahoney.
(Lawrenceburg, Ind.) – High school football makes its return in Indiana Friday night on fields across the state, but nowhere else in the Hoosier state may there be an opening game bigger than the in-county rivalry between East Central and Lawrenceburg.
The Trojans and Tigers will take to the artificial turf at Lawrenceburg High School's Neary Field at Dick Meador Stadium at 7:00 p.m. Live coverage of the game will hit the air at 6:40 p.m. on Eagle Country 99.3 and www.EagleCountryOnline.com.
The game is the kick-off of not just Indiana's season, but also the 2019 Skyline Chili Crosstown Showdown, a multi-week high school football showcase of Cincinnati area teams.
"We're fortunate that we've been able to kick off the Showdown the last three years with East Central," says ninth-year Lawrenceburg coach Ryan Knigga, a former assistant at East Central. "They're going to have a tailgate down there tonight in the Jungle. So we're looking for a bigtime atmosphere and want all of our Tiger fans and East Central fans to come out and kick off this 2019 season with some good football in The Pit."
East Central head coach Jake Meiners, just 28-years-old when he was named the program's new coach last January, acknowledges the rivalry between East Central and Lawrenceburg. The former EC quarterback and assistant coach has never lost a game to the Tigers.
LISTEN TO EAGLE COUNTRY 99.3'S INTERVIEWS WITH THE HEAD COACHES:
JAKE MEINERS, EAST CENTRAL
RYAN KNIGGA, LAWRENCEBURG
EC, 11-2 and a sectional champ last season, won last year's season-opening meeting in St. Leon, 38-7.
"They were playing young players. Now those players are back and they are improved," Meiners says. "We're going to have to be creative and maybe do a few other things that maybe we haven't done in the past."
But the new head coach does plan to largely adhere to the style of ground-and-pound football that has made East Central a perennial powerhouse.
"Everybody knows we like to run the football and pride ourselves on having our run game," says Meiners.
New names will be handling much of the ball management duties this season. Gone is all-state honorable mention quarterback Alex Maxwell. Enter junior signal caller Ryan Bond, who has not thrown a pass at the varsity level.
"We've preached all summer that he cannot try to be Alex Maxwell. He needs to be Ryan Bond," says Meiners.
"Ryan's a special player and we have all kids of confidence in him and we know what he can do."
Jake Fike came on late last season as a relief option for featured back Eric Rosemeyer, since graduated. Fike, a junior, will be the starting running back after collecting 496 rush yards and eight TDs in his sophomore season.
Two senior receivers are back to catch passes in David Badescu and Trevor Becker, who each made impressive plays last year. Becker is also the backup quarterback.
You won't find many more offense lines as well-coached as East Central under O-line coach Tim Behlmer. Division I prospect Luke Collinsworth, a junior, is at left tackle. Cody Bentley moves to left guard, joined on the line by Devin Salyers, Logan Adams and Justin Laymon.
Defensively, the Trojans will be led four All-EIAC players returning: end Gage Ertel, linebacker Kole Viel, safety Devon Donawerth, and cornerback Chase Ludwig. Senior Kyle Krummen looks to repeat as the team's leading tackler and sacker – he recorded 74 tackles with 21 for a loss and 11 sacks in 2018.
GAMEDAY pic.twitter.com/VnT3RC6brU

— Eagle Country 99.3 (@eagle993) August 23, 2019
Fans and coaches are excited to see how Lawrenceburg's underclassman quarterback, Garrett Yoon, has developed. Last season as a freshman, he threw for 2,138 yards with 14 touchdowns and 10 interceptions, plus another 694 yards and 12 scores running the ball.
"He's a natural leader. He commands the huddle. He's a phenomenal athlete and he's a dual threat. We're looking for big things from him this season," says Knigga, whose team finished last season 5-6.
However, standout senior wide receiver – and the quarterback's older brother – Gavin Yoon will not play in the Tigers' first few games this season. He was injured in the team's preseason scrimmage game last Friday. Last season, he was his brother's favorite target with 45 catches for 822 yards and seven touchdowns.
Lawrenceburg does have experienced players at key positions. Junior running back Adam Burd is back as a regular ball carrier for the third straight season – he'll add kick returner to his resume this year. Senior wide receiver Seth Lampert will look to up his catch total to bridge the gap to Gavin Yoon's return.
On defense, the Tigers have a stout set of linebackers. Last season's leading tacklers, Andrew Rennekamp and Marshall Kinnard, are back as seniors and will be joined by Jake Schwarz. 315-pound senior Dalton "Heavy D" Dixon anchors the defensive line.
To help toughen up his team this summer, Knigga took players to a two-day boot camp with the Indiana National Guard.
"To see how our kids responded to what they had to go through was just something that we had never seen our kids go through or be able to do. It was rewarding for us to see that, but I think it was more rewarding for our kids," he shares.
Knigga acknowledges the challenge East Central poses Friday night. The Tigers have not beaten the Trojans since 1992.
"We're looking forward to the opportunity and think it's going to be a great game," Knigga said.
Other area games on Friday, August 23
South Dearborn at Seymour, 7:00 p.m.
Batesville at Jennings County, 7:00 p.m.
Franklin County at New Castle, 7:30 p.m.
Rushville at Milan, 7:00 p.m.
Crawford County at Switzerland County, 7:30 p.m.