Head coach Zane White joined Eagle Country 99.3 on Wednesday to preview the upcoming girls basketball season.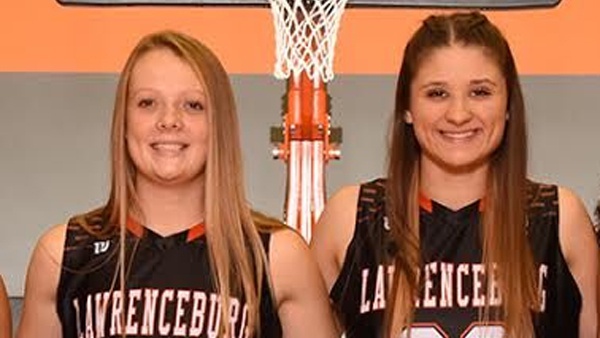 Kristin Roark (left) and Kierah Lowe are the Lady Tigers' top returning scorers heading into the 2020-21 season. Photo via @LburgLadyTigers.
(Lawrenceburg, Ind.) - The Lawrenceburg Lady Tigers basketball team will look a little different this year after familiar faces have departed via graduation, but there is plenty of talent to carry on a recent string of winning seasons.
Head coach Zane White has led the Lady Tigers to 20-plus wins in three-straight seasons. The year before that streak started, Lawrenceburg went 16-9.
That is 78 wins in four seasons. Over those four seasons, the Lady Tigers have had their fair share of talented players, including all-time leading scorer Juliana Kemper, Josie Denton, Makenna White, Justice Chambers, and Tristyn Dennis, among others.
With four seniors graduating after last season, there will be plenty of opportunity for new names to step into bigger roles in 2020.
"Graduating four kids last year always opens up positions and spots for people to take," said Coach White. "Practice has been good, its been competitive. The kids that have been around grasp what we are trying to do and some of the things we are big on within our program."
Among those graduating seniors was four-year starter Juliana Kemper, who has moved on to play college ball at Indiana Wesleyan University. Kemper averaged 15.8 points, 8.3 rebounds and 3.3 assists per game as a senior.
Senior Kierah Lowe looks to be the top candidate to replace Kemper's scoring and rebounding ability. Lowe was an all-conference selection as a junior, averaging 8.9 points and 5.4 rebounds per game.
Lowe, along with and fellow senior Holly Knippenberg, will be called on to lead the Lady Tigers.
"They're great leaders. I think Holly is one of those kids as a senior that does anything we want her to do. She comes in and plays defense, she knows what we are doing on the floor, she's like another coach for us out on the floor, and I rely on her a lot. Then, Kierah made huge strides last year. She really really stepped up and realized I can be pretty good at this game. She was an all-conference player for us and she really really progressed throughout the year," said Coach White.
HEAR DOUBLE T'S FULL INTERVIEW WITH COACH WHITE IN THE AUDIO PLAYER BELOW
White added that he believes his team will have strength in numbers this season. "I think we honestly have 10 kids on our varsity roster that can play at point in time," said Coach White.
Among those 10 players are seven juniors, led by Kristin Roark, Chloe Meyer, and Kirstin Cross. Each of the three played significant minutes at the varsity level a year ago and found themselves in starting roles at various parts of the season. Fellow juniors Hannah White and Malissa McClinton are expected to see time at the varsity level, as is sophomore Lizzie Redar.
The Lady Tigers roster also includes two new incoming juniors that moved into Lawrenceburg in Katie Johnson and Kyah Chase. Both are expected to compete for playing time.
Lawrenceburg's first test comes Saturday, November 7 when they host Batesville in what will be a conference game right out of the shoot.
"We know within our conference its really tough, there's never a night off," said Coach White. "Batesville is going to be a tough matchup for us. We feel like there are some things we can do to be successful. We're definitely excited."
The EIAC championship likely runs through Greensburg and East Central. The Lady Tigers will face both teams in the final two contests of the regular season. Lawrenceburg's schedule also features games at the Scottsburg Tournament in late December and the annual Rivertown Classic in January, a tournament the Lady Tigers have won four times in a row.
"I think that really helps us get ready and understand what its going to take to be successful come sectional time, which we're trying to knock that door down," said Coach White.
Aside from winning a sectional title, Coach White's Lady Tigers have their sights set on an EIAC championship and another Rivertown Classic title, but having the opportunity to play in what has been a crazy year hasn't gone unnoticed.
"We are just super excited to have this opportunity because not everybody is getting it. Any time we can tip it up and get out there and play and take what these kids are doing in practice to the game, it's exciting and it's part of what fuels our fire as a staff," said Coach White.
2020-21 Schedule
Nov. 7 vs. Batesville - 7:30 p.m.
Nov. 10 at Madison - 7:30 p.m.
Nov. 13 at Scottsburg - 8:00 p.m.
Nov. 14 vs. Rising Sun - 7:30 p.m.
Nov. 17 vs. Oldenburg Academy - 7:30 p.m.
Nov. 20 at South Ripley - 7:30 p.m.
Nov. 25 at Franklin County - 7:30 p.m.
Nov. 27 at South Dearborn - 7:30 p.m.
Dec. 4 at Richmond - 7:30 p.m.
Dec. 5 vs. Milan - 6:00 p.m.
Dec. 10 vs. North Decatur - 7:30 p.m.
Dec. 12 at Connersville - 7:30 p.m.
Dec. 19 vs. Rushville - 1:30 p.m.
Dec. 22 at Columbus East - 7:30 p.m.
Dec. 29-30 Scottsburg Tournament
Jan. 6-8 Rivertown Classic
Jan. 12 at Jac-Cen-Del - 7:30 p.m.
Jan. 16 at Columbus North - 2:30 p.m.
Jan. 19 vs. East Central - 7:30 p.m.
Jan. 28 vs. Greensburg - 6:00 p.m.