Fresh off a bronze medal at the X Games in Aspen, Colorado, Perdue joined Bubba Bo in studio on Thursday.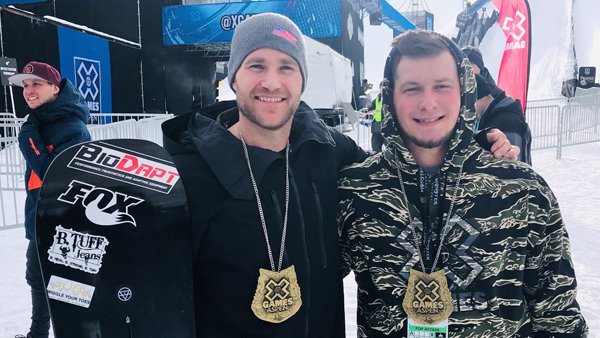 Chris Perdue (right) with his Unified Snowboarding partner, Mike Schultz. Photo by Greg Townsend.
(Osgood, Ind.) – Special Olympics Indiana Ripley-Ohio-Dearborn's Chris Perdue finally captured a medal at the X Games, but he has his sights set on bigger and better things.
Perdue joined Eagle Country 99.3's Bubba Bo for an interview Thursday morning following his trip to Aspen, Colorado, where he and his partner, Mike Schultz, earned the bronze medal in Unified Snowboarding.
It was Perdue's first medal in three tries at the X Games. Now, Perdue has set his sights on going to Sweden.
"In 2020, Special Olympics will be holding its World Winter Games in Sweden and Chris has a desire to hopefully compete for Team USA at those games," said Greg Townsend, program coordinator for Special Olympics Indiana.
Aside from hopefully competing at the World Winter Games, Perdue has been thinking about giving back to the sport he loves by working at Perfect North Slopes.
"I think next year, I want to try and teach," said Perdue.
HEAR CHRIS PERDUE AND GREG TOWNSEND'S CHAT WITH BUBBA BO IN THE AUDIO PLAYER BELOW
Townsend and Perdue also discussed the upcoming 2019 Polar Plunge on February 16. The annual event sees fundraisers jump into the frigid water at Versailles State Park.
The proceeds benefit approximately 14,000 Special Olympic athletes to train and attend state, national and international events.
"Our goal this year across the state through the 18 plunges is to raise a million dollars for special Olympics athletes," said Townsend.
For those not brave enough to take a dip in the cold water, you can still support Special Olympics Indiana by participating in the Polar Climb 5K before the plunge.
"If you are not brave enough to take a dip in the water we ask you to come out and still support us through running the 5K through the park.
Pre-registration cost for the 5K is $25 by February 8 and includes a t-shirt. The price then increases to $30 and does not include a t-shirt. Participants may also register the day of the event.
RELATED STORIES:
Freezing For A Reason: 2019 Polar Plunge
Third Time The Charm: Special Olympian Chris Perdue Earns Bronze At Winter X Games