Several area Vets will be honored on the Civic Park stage this Saturday afternoon.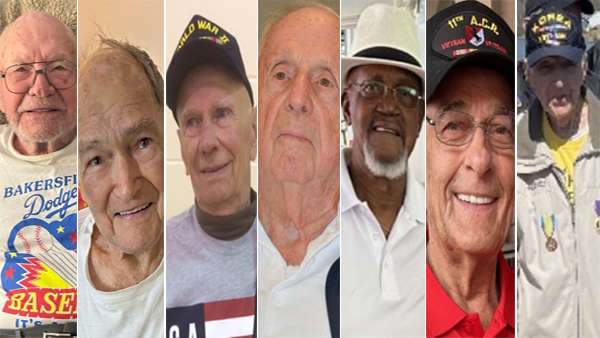 Pictured (left to right): JC Lewis, George Lingg, George Klopp, Clarence Cook, Leon Perry, Steve Utter, and John Dickhaus. Photos provided.
(Lawrenceburg, Ind.) – Area Veterans will be honored this Saturday at Lawrenceburg Fall Music Fest.
The annual Veterans Recognition Ceremony will take place on the Civic Park stage starting at 2:30 p.m.
Hosted by PG Gentrup, there will be four World War II stories followed by four Purple Heart stories.
This year's honorees are JC Lewis, George Lingg, George Klopp, Clarence Cook, Leon Perry, John Dickhaus, Steve Utter, John McClanahan (posthumous), Harold "Shorty" McClanahan (posthumous), and William "Bill" Rowling.
Purple Heart recipients Tim Albright and Eddie Roberts will be on stage to present plaques to the honorees. The Veterans will also be presented to the Fall Music Fest crowd at 6:35 p.m., following the Mayor's Welcome speech.
Bios (provided by PG Gentrup) for the honorees are listed below.
J.C. Lewis was born on June 1, 1927 in Hazard, Kentucky to Minta & Samuel Lewis. He had one brother, Elmer, and four sisters, Juanita, Loretta, Lois and Opal. He attended Lenniger Grade School near Weisburg, Indiana and graduated from Aurora High School in 1944. He entered the United States Navy on January 11, 1945 and took Boot Camp at Great Lakes, Illinois. He proudly served aboard the USS Sterett, DD-407 in the South and Central Pacific Ocean. On April 9, 1945, at the height of the Japanese Kamikazee attacks, the Sterett was on radar pickett duty and was swarmed with 5 attacking Kamikazee planes. The Sterett and her crew nearly downed all 5, but a badly damaged and bettered Kamikazee plane managed to slam into Sterett's starboard side at the waterline, almost directly under J.C.'s battle station just behind the bridge, throwing him violently across the deck. Amazingly, no one was killed in the explosion that day. The USS Sterett earned a Presidential Unit Citation for extraordinary heroism in action, 13 battle stars, as well as the Philippine Republic Presidential Unit Citation during her service to our country. He was discharged on April 8, 1948. He was awarded the World War II Victory Medal, Navy Good Conduct Medal, Asiatic-Pacific Medal, American Campaign Medal, Philippine Liberation Medal, Presidential Unit Citation, Philippine Republic Unit Citation and the Ruptured Duck Honorable Discharge. His wife, Dorothy (Dottie) is at the Shady Nook Care Center. She worked as a nurse. They have one son, Sam. J.C. was self employed and was an expert at rebuilding transmissions on Dixie Highway in Hamilton, Ohio. He is a member of the Aurora American Legion Post 231 and Masonic Lodge F&AM 67 in Oxford, Ohio. J. C. Lewis is a proud member of America's Greatest Generation. He was aboard the USS Sterett when it was decommissioned in 1948 at the 33rd Street Pier in New York City. Today, he resides at Mt. Sinai, Indiana and still rides his motorcycle.
George F. Lingg Jr. was born on August 1, 1925 to George A. and Helen (Graf), in New Alsace, Indiana. He had one brother, Art, who served in the Navy in World War II, and three sisters: Ann Thebo, Dorothy (George) Hornbach and Ruth (Harry) Cornelius. He attended St. Paul's Grade School in New Alsace. George served with the Pacific Fleet in WW II and was aboard the USS Salamaua, CVE-76, and served as a radioman. He was awarded the World War II Victory Medal, Asiatic-Pacific Medal, American Defense Medal, American Campaign Medal, Philippine Liberation Medal, Navy Good Conduct Medal and the Ruptured Duck Honorable Discharge. George married Dorothy Feist in 1948 and they have three daughters: Mary (Les) Finn, Monica (Dave) Wiggins and Judi. There are six grandchildren: 2 boys and 4 girls, along with many greatgrandchildren. George worked at Schenley Distillery and retired from Monsanto. He is a Life Member of the New Alsace American Legion Post 452 and was a member of the Honor Guard. He is a member of St. Paul's Catholic Church in New Alsace. George still drives and enjoys going to the Reservation Restaurant to eat with his fellow retirees. He is proud of his service in World War II, which makes him a member of America's Greatest Generation.
George E. Klopp Sr. is a 96 year old World War II Veteran from Lawrenceburg, Indiana. He was born on April 13, 1926. He joined the United States Navy in June of 1944 and was only 18 years old when he was shipped overseas where he would spend the next 22 months in the South Pacific. He remembers passing thru the Panama Canal on a voyage that would change his life forever. This was on an old British Cargo Ship that had been converted to a Troop Ship. He served as a EM 3rd Class and is still very proud of his service to our great nation. His experiences in the Pacific Ocean were rough at times with the rough seas and strong storms and the sea sickness associated with this travel. Eventually, they arrived at the Navy Base Hospital in Espiritu Santo, New Hebrides where he was assigned to help with the security of the hospital and surrounding area. He was then sent to the Naval Station in Tutuila, Samoa for about 9 months where he became an Electrician's Mate. He received his orders to return to the USA and was put on an LST to Pearl Harbor. He then was put on a very large ship to return home and remembers passing under the Golden Gate Bridge at San Francisco. It was a long train ride back to home in Indiana. George worked and retired from Anchor Glass in Greendale, where he resides today. George has served in the Lawrenceburg American Legion Post 239 Color Guard and the new Southeastern Indiana Honor Guard for over 70 years and is still active today. George is a legend around Lawrenceburg and Greendale and is active every day with golfing, walking and being with friends and family. He was awarded the Asiatic Pacific Campaign Medal. World War II Victory Medal, American Campaign Medal and Navy Good Conduct Medal. George is a Life Member of the American Legion, 40 & 8 and has been honored as a Hometown Hero, Lawrenceburg Fall Fest plaque recipient, presented with a Quilt of Valor by the Rivertown Quilters, presented a World War II plaque at the Aurora Farmers Fair and presented awards at the Trinity Christian Center Annual Veterans Banquet. He has been acknowledged at many Veterans Day ceremonies thru the years in Lawrenceburg. George is a True American Hero and an American Patriot.
Clarence Cook was born on October 26, 1926 in Lawrenceburg, Indiana to Edmund and Onnebelle Cook. He had one brother, Eugene and one sister, Ruth. Clarence attended Lawrenceburg Consolidated High School (LCHS) with the class of 1944. He was inducted in the United States Army on February 6, 1945 in Indianapolis and was sent to basic training at Tyler, Texas. He served in the South Pacific. Clarence was a Heavy Mortar Crewman. He served honorably during the rest of World War II and was discharged on October 29, 1946. He was sent to Japan for the demilitarization project at the end of the war for one year. He was awarded the World War II Victory Medal, Army Occupation of Japan Medal, Philippine Liberation Medal, Army Good Conduct Medal, American Campaign Medal and Sharpshooter Badge. Clarence married his wife, Marie (Anderson), on April 12, 1943 and they had two children, Diana (Bob) Sonntag and Terri (Larry) Dillard. There are five grandchildren: Traci, Scott, Jodi, Greg and Melissa. There are 10 great grandchildren. Clarence retired from Seagrams after 40 plus years of service. He is a member of American Legion Post 239 in Lawrenceburg. Clarence is a member of America's Greatest Generation, a great American Patriot and lives by those words of: Duty-Honor-Country. He is proud of his service to our great nation. He served with H Company, 35th Regiment of the 25th Infantry Division and supported a Heavy Mortar Platoon with 81mm mortars and a .50 caliber machine gun.
Leon M. Perry was born on September 25, 1949 in Louisville, Kentucky, to Louis William and Martha Perry. He has two brothers, Jesse and Louis. He attended the Madison Broadway and the Lydia Milton Grade Schools in Madison and graduated from Madison Consolidated High School in 1968. He received an Associate's Degree in Automotive Mechanics. Leon entered the United States Marine Corps on January 6. 1969 and was discharged on January 6, 1973. After his training, he was sent to Vietnam and went to the DaNang area and a place called the "Arizona Territory". He served with the 126th of the 1st Marine Division and the 5th Marine Division with K (Kilo) Company. He was promoted to PFC, Lance Corporal and then Corporal and after he returned to the USA, he was promoted to Sergeant E-5. He was decorated for Valor in Vietnam, after he was shot by the Viet Cong, and awarded a Purple Heart. He was awarded the Navy/Marine Commendation Medal of Heroism. Some of his other awards were: National Defense Service Medal, Vietnam Service Medal, Vietnam Campaign Medal, Marine Corps Good Conduct Medal, Combat Action Ribbon, Presidential Unit Citation, Vietnamese Gallantry Cross with Palm and Expert Rifleman badge. Leon was awarded a total of 18 ribbons and medals for his service in the Marines and National Guard. His Marine Corps MOS was 0311 and that was a Ground Pounder/Grunt. Leon's older brother was stationed in Vietnam for six months the same time Leon was there, but he was in the Army. After serving four years in the Marine Corps, Leon served in the Indiana National Guard for fourteen years from 1980-94, where he was promoted to Sergeant First Class (E-7). Leon married his wife, Beverly in 2000 and they have six children, Leon (4), Bev (2). There are seven grandchildren and three great grandchildren. Leon worked at the Williamson Company for 26 years and Grote for 13 years. He also worked at Century Tube for seven years. Leon is the Past Commander of the Madison American Legion Post 9 and Past 9th District Legion Commander. He was the Post Commander at VFW Post 1969 from 2006-09. He received an Appreciation Award from the 9th District for the VFW in 2020. Leon attends the Hanover Baptist Church. Leon is very proud of his service to our great nation and would do it all over again if needed. He is a True American Patriot.
John Dickhaus was born on December 18, 1930 to John and Marie Dickhaus. John is the fifth child out of six in his family and has three sisters, Rita, Rose and Ruth and two older brothers, Bob and Bill. As a youngster, they had a very small house with only two bedrooms and he had to share with his two brothers. His dad worked as a milkman for over forty years. John attended Assumption Grade School in Walnut Hills and Purcell High School. In 1937 when the Ohio River flooded, John was only seven years old. Life was difficult and the family was without water for a period of time and had to walk and bring water home to use on a very limited basis. It had to be boiled to use it. John graduated from Purcell High School in 1950 and went right to work at a place called Auto Light making automobile bumpers. He only worked for six months and joined the Navy during the Korean Conflict. John entered the Navy on January 3, 1951 and was sent to Boot Camp at Great Lakes, Illinois and eventually became a Navy Corpsman. He then was sent to California in 1952 to train for combat situations that he would encounter in Korea. His job as a medic was to help his fellow Marines when they were injured. Navy Corpsmen are assigned to Marine Units and wear the Marine Corps uniform. While out in the field one day, his squad met a superior enemy force and were over run and two of his squad members were killed and three were badly injured. The Marines retreated from the area to regroup but John was left with another Marine in a foxhole. They could possibly become captured and a Prisoner of War, continue to fight the enemy or play dead and hope they could eventually get back to their unit. They pulled the bodies of the two dead Marines on top of them and prayed for the best. It was dark so the enemy could only feel and assumed all were dead. John even remembers one of the enemy running his hand over his head. The North Koreans figured they were dead and moved on to continue in the battle and later on, John and his fellow Marine, were able to crawl back to a more secure area. John had been wounded during the battle and was awarded a Purple Heart for his injuries suffered at Panmunjom, Korea. The Korean War ended in 1953 and John came home on leave and married his sweetheart, Janet Vianello. She accompanied him to California after his leave ended and went to Camp Pendleton, California. Three months later, they were transferred to Cherry Point, North Carolina. On July 23, 1954, their first child was born, John Frank Dickhaus Jr. In 1955, John was finally honorably discharged and returned home to begin his new life. After his discharge, he was finally awarded his Purple Heart Medal. His granddaughter, Kristie Dickhaus, had his medals issued to him and put them in a beautiful display case. He also received, along with the Purple Heart, the National Defense Service Medal, Marine Corps Combat Action Ribbon, Korean War Service Medal, Republic of Korea War Service Medal, Korean Presidential Unit Citation, United Nations Korean Service Medal, Korean Defense Service Medal and the Marine Corps Good Conduct Medal. John was proud of his military service with the 1st Marine Division of the 7th Marines. He was nominated for a Silver Star but it wasn't followed up on by his commanders due to the combat they were involved in. The family continued to grow after John returned to civilian life to have his children, John, Mike, Greg, Tim and Jody, who passed away at only three months, Today there are 14 grandchildren and a great grandchild. John retired as a Supervisor, after over 34 years at Ford Motor Company. John Dickhaus recently was honored at the Veterans Memorial at Hidden Valley Lake when a brick was placed there with his name on it. He also received a Quilt of Valor from the Rivertown Quilters and presented by Sheila Stevenson. John Dickhaus proved himself on the battlefields of Korea and is a True American Hero who served our great nation and his fellow Marines. He is very humble and says that he was only doing his job to protect others. Today, John's grandson, Timothy, is currently serving in the United States Navy at Norfolk, Virginia. We have been blessed to have such honorable men, like John Dickhaus, to serve and protect the United States of America.
Steve Utter was born on September 16, 1947 to Harley & Louella Utter on Sangamaw Ridge in Dillsboro, Indiana. He was the youngest of ten children. His siblings are: John, Jerry, Norm, Wayne, James, Nellie, Mary, Scharline, Genieve (Sissy or Jenny). Steve and John are the only two still living. Steve attended schools in Dillsoboro and was a 1965 graduate of Dillsboro High School. He entered the United States Army on November 2, 1966 in Cincinnati, OH and spent his first night in the Fountain Square Hotel as the whole area was shut down due to an early snowstorm that dumped eleven inches of snow in our area. He took his basic traning at Ft. Knox, Kentucky under Staff Sergeant Malcolm P. Libbey, who would later be killed in action in Vietnam on October12, 1967. Steve then was sent to Ft. Polk, Louisiana for AIT and then received his orders for Vietnam. He was deployed to Xuan Loc, Vietnam to serve with the 11th Armored Cavalry Regiment (ARC). He was twice wounded in action against enemy forces and was awarded two Purple Hearts. He was also awarded the Combat Infantryman's Badge (CIB), National Defense Service Medal, Vietnam Campaign Medal, Vietnam Service Medal with four bronze battle stars, a Presidential Unit Citation, Presidential Valorous Unit Citation, Meritorious Unit Citation, Republic of Vietnam Civil Actions Honor Medal 1st Class, Vietnam Gallantry Cross with Palm, the Expert Shooting Badges for the M-16 Rifle and M-60 Machine Gun and Marksman Badge for the M-14 Rifle. He was assigned to Co. C, 52nd Infantry in Saigon after his second Purple Heart and assigned to a guard duty post. After his year of deployment in Vietnam he returned to Ft. Knox, KY where he was assigned to Co. B, 4th Infantry Battalion, 54th Infantry until his discharge on November 1, 1968. While in Vietnam, he met up with a soldier he has gone thru basic training with at Ft. Knox, Bill Strode. Steve also enjoyed his R&R in Hawaii. Steve married his classmate and wife, Kathy, on September 24, 1966 and they have three children: Tom, Kris (Ronnie) Hensley and Sarah (Kevin) Thomas. They have four grandchildren. Steve retired from the American Electric Power (AEP) Tanners Creek (I&M) Power Plant after a 37 year career as a Maintenance Supervisor. Steve lost both kidneys due to his exposure to Agent Orange in Vietnam. His sister, Scharline Utter Fields, donated one of her kidneys, at age 62, on September 30, 1997. She passed away in 2020 but today that 88 year old kidney is still functioning. September is a busy month for the family as they celebrate Tom's birthday on the 10th, Steve's birthday on the 16th , wedding anniversary on the 24th and kidney anniversary on the 30th . Steve attends the St. John's Lutheran Church in Farmers Retreat. He is a member of Dillsboro American Legion Post 292 and life member of the Southeastern Indiana Vietnam Veterans of America, Lary D. Fogle Chapter 71. He was recently honored as a Hometown Hero at a Cincinnati Reds game where he stood on top of the dugout and was recognized as a True American Hero. Steve is proud of his service to our great nation and it's men like him who put their life on the line, who give us the opportunity to Live the American Dream.
PRISONERS OF WAR These are men who went off to serve our great nation during World War II and were captured by our enemy in the European Theater of operation. The Germans and Nazi's were our bitter enemies and these three young men put their lives on the line to try to make this a better world. They are a vital part of America's Greatest Generation. These are the fascinating stories of Harold "Shorty" McClanahan, John H. McClanahan and William "Bill" Rowling.
HAROLD R. "SHORTY" McCLANAHAN shorty served in the Army Air Corps during WW II and logged a total of 52 hours and 45 minutes of aerial combat time. Shorty was shot down while flying on his 17th mission and the name of his plane was a B-24 named the "Exterminator". Shorty parachuted from the badly damaged aircraft and when he landed he dislocated both ankles but knew he had to do something to survive. He worked on both ankles to try to get them working properly and eventually was able to get both ankles pushed back in working shape so he could leave the area. The pain was unbearable but he was able to get up and walk. There were 8-10 German soldiers in the area but somehow they didn't notice his landing. He was badly wounded too and had pieces of shrapnel in his head and neck. The wind had carried his parachute back into France and he was able to evade the German's and make it to a village. Eventually they tracked him down in the village and he became a Prisoner of War. He spent his 21st birthday as a POW in solitary confinement. He would be held by the Nazi's for a total of 16 months and later was released and returned home to Moores Hill, Indiana as a Purple Heart Recipient and True American Hero. Shorty's sister later wrote a biography about the exploits of her brother. It's titled "A Funny Thing Happened On My Way To War by Donna McClanahan-McMillin.
JOHN H. McCLANAHAN served in the Army Air Corps during World War II and was shot down by the German and Nazi Army while flying in a B-17 airplane over France. John was badly wounded and parachuted safely to the ground, where he was rescued by two young French boys and they dragged him safely to their home near the crash site. They tended to his wounds the best they could. The French Underground helped John evade the Nazi's for over three months before he was discovered in a Paris train station with false papers and captured him to be sent off to a civilian concentration camp called Buchenwald. They killed the two French Underground members who were with John when he was captured. Later on the Red Cross was able to provide proof of his military status and he was sent to Stalag Luft III, a Prisoner of War camp. During the five months he was held captive at Buchenwald and the Stalag, they tried to make him talk about his activities in the war and the American planes etc. He refused to talk to them and they put him in a "death house" and several times threatened to hang him. When he still refused to talk, they put him in front of a firing squad. Thankfully, they didn't shoot him but the agony of facing death several times took its toll on him. He became very ill and was treated badly by the enemy. One time they thought he had died and threw his body on a pile of dead people but a British Surgeon noticed he was moving and pulled him from the pile, The surgeon operated on John without any way to numb his body or didn't have any medication to help him. He survived the operation and was eventually healed after a painful process. Later he was released to return to the USA and Moores Hill as a Purple Heart Recipient and True American Hero. Then, John, had to testify in Washington, DC before the Military Archives Group and record his story so his history could be saved. John was visited by some federal agents who came to Moores Hill to the farm he and Shory had purchased to talk to John and told him his story would be used at the Nazi War Criminal Trials at Nuremberg, Germany. John passed away when he was only in his 50's as a result of his wounds suffered in World War II and all the pain and suffering he had endured.
WILLIAM "BILL" ROWLING grew up in Cincinnati, OH near the baseball field known as Redland Field and eventually became Crosley Field. He was always a big Reds baseball fan and loved the game. Back on September 21, 2008 he and his son-in-law, Stoney Stonefeld, drove to New York City to watch the last game at the old Yankee Stadium. Bill served in the Army Air Corps as a Staff Sergeant in World War II and was shot down in a B-17 named the Iza Angel. They were on their 16th mission on Feb. 20, 1944, flying over Denmark, when they had just shot down a German plane and their B-17 was shot apart. He would spend 15 months in East Prussia and Germany as a Prisoner of War (POW). Bill was the belly turret gunner at the bottom of the B-17. He once said that he had enlisted the the Army at age 18 and didn't even have a driver's license but was flying around Germany and Denmark shooting at German planes. Bill told of the harrowing experience of having to parachute out of the B-17 and praying that when he came through the clouds that the parachute would function and that there would be land below and not water. That would have been a death sentence to land in water. The war ended on May 8, 1945 and his POW camp was liberated by the troops of General George S. Patton. Bill was awarded a Purple Heart for his injuries. He talked about landing and removing his parachute and hid it near a woods and evaded the German patrols looking for the survivors. He made it to a village only to be knocked out by a German soldier and a rifle butt as he came around a corner of a building in town. The next 15 months weren't fun in a POW camp but he survived. Many years later, a friend happened to see a story in a magazine about a German family finding a parachute after a plane was shot down and told the story of how the family used that silk parachute to make a wedding dress for their daughter and the name sewn in the parachute was Bill Rowling. Bill lived in Ohio County near Rising Sun for many years and retired from GE in Cincinnati. He was honored as a Hometown Hero at a Cincinnati Reds game, presented a beautful Purple Heart Plaque at Lawrenceburg Fall Fest, a World War II plaque at Aurora Farmers Fair, a Quilt of Valor at the Rising Sun Navy Bean Festival and was honored to be one of the four wreath presenters at the Tomb of the Unknown Soldier in Washington, DC on a trip with PG Gentrup and 50 area veterans in 2015. He was also able to take a ride in a B-17 at Lunken Airport on July 21, 2014, thanks to Register Publications, during a media flight. He said the last time he took off in a B-17 he didn't get to land and now here it is over 70 years later and he is finally getting to land again in a B-17. Bill's faithful and dedicated service in the 8th Army Air Corps with the 388th Bombardment Group makes him a True American Hero and member of America's Greatest Generation. It's because of these brave men and women who have answered the call to serve our great nation, that we all have the opportunity to Live the American Dream.