Turfway Park isn't going anywhere. In fact, it's getting upgraded.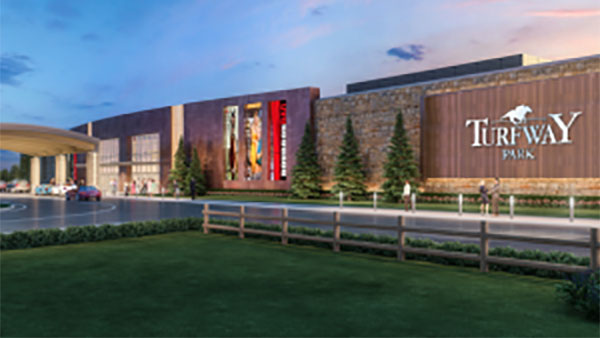 A rendering of New Turfway Park. Photo provided.
(Florence, Ky.) - Turfway Park has been sold.
Churchill Downs Incorporated announced Friday that they will acquire Turfway Park from JACK Ohio LLC and Hard Rock International for $46 million. In total, Churchill Downs will invest up to $150 million to build a new grandstand and state-of-the-art facility in Florence.
The closing of the transaction is contingent upon approval by the Kentucky Horse Racing Commission. Their next scheduled meeting is October 8.
Subject to approval, the 2019-2020 winter thoroughbred racing meet at Turfway Park will be conducted on racing dates previously awarded to Turfway Park for December 2019 and in accordance with the schedule of racing dates submitted by JACK to KHRC for 2020.
Additionally, upon approval, Churchill Downs will not pursue its previously announced New Latonia Racing & Gaming project.
Churchill Downs says demolition of the existing grandstand will begin at the completion of the 2019-2020 meet.
The project will include a historical racing machine facility featuring up to 1,500 machines, state-of-the-art clubhouse, food and beverage venues and a new inner dirt track to complement the existing one-mile synthetic main racetrack.
"We are thrilled to welcome Turfway Park to the Churchill Downs racing family," said Kevin Flanery, President of Churchill Downs Race Track. "Our team is poised to restore Turfway to its former glory, anchored by northern Kentucky's first historical racing machine facility. The result will be a first-class racing product fueled by increased purses that keeps high-quality horses in Kentucky year-round and appeals to horseplayers nationwide."
RELATED STORIES: