Churchill Downs has announced plans for a new $200 million horse racing facility in northern Kentucky.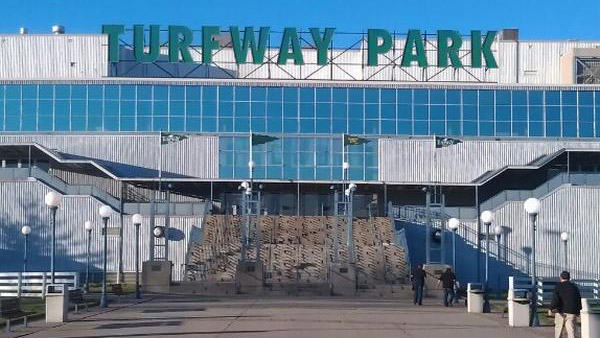 File photo
(Florence, Ky.) - Turfway Park in Florence could be in danger of losing some, or perhaps all, of its horse races.
Churchill Downs has announced plans to build a $200 million racing and gaming facility. Though "Latonia" is in the proposed facility's name, Latonia Racing and Gaming, an exact location has not been named.
With the announcement, Churchill Downs has applied to the Kentucky Horse Racing Commission to receive the 2020 racing dates which have traditionally been allotted to Turfway Park. Those races are January through March and December.
If the races are awarded to Churchill Downs, it could end thoroughbred racing at Turfway Park as soon as next year.
Turfway Park is in the process of being purchased by Hard Rock International in a $780 million acquisition which also included JACK Cincinnati Casino. The deal was first announced last April.
JACK Entertainment CEO Mark Dunkeson issued a statement Saturday calling Churchill Downs' announcement an attack on Turfway.
"We are shocked and thoroughly disappointed by Churchill Downs' recent attack on Turfway Park, which has been a significant part of the Northern Kentucky community for over 60 years," said Dunkeson. "JACK Entertainment and Hard Rock International will jointly defend the long-standing race dates that have regularly been awarded to Turfway Park and contest the inappropriate actions of Churchill Downs and their attempt to disrupt the Northern Kentucky racing community."
Dunkeson added that Hard Rock has committed to regulators and Kentucky leaders to investing over $100 million into improving Turfway Park. The upgrades may include the addition of historic racing machines, building race purses and significant enhancements to the racing business.
"Once these improvements are completed, Turfway will be an exceptional facility that is well positioned to carry on its rich history of thoroughbred racing while becoming an entertainment attraction for all of Northern Kentucky," said Dunkeson.