An Illinois truck driver caused a power outage that affected Lawrenceburg and Greendale Thursday night.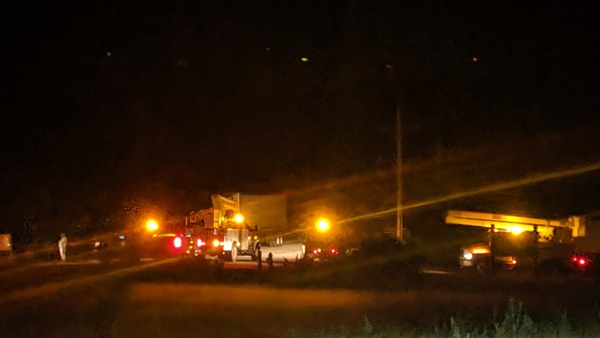 Utility crews on the scene to make repairs to a damaged utility pole on Lorey Lane in Greendale after a semi truck hit it Thursday night, May 23. Photo by Mike Perleberg, Eagle Country 99.3.
(Greendale, Ind.) – A truck driver is accused of causing Thursday night's power outage that affected much of Lawrenceburg and Greendale.
Greendale Police and Fire responded to a report of a tree on fire on Lorey Lane just after 9:00 p.m., says GPD Sgt. Kevin Turner. They arrived to find a utility pole broken, which led to the power outage.
Officer Clint Putnam investigated the incident.
"Through combined efforts of canvassing the multiple semi-trucks in the area for over two hours and with the assistance of a local business, he was able to identify the alleged vehicle involved in the incident, a blue 2019 Freightliner semi pulling a white box trailer," said Turner.
The driver of the truck was Melvin Demonde McMichael, 33, of Normal, Illinois. He was placed under arrest and charged with False Informing (class A misdemeanor) and Failure to Stop at a Property Damage Accident (class B misdemeanor).
Lawrenceburg Police officers managed traffic on U.S. 50 while Lawrenceburg and Greendale utility crews worked late into the night to restore power.