Vivian Moore was sentenced to 30 years behind bars on Tuesday.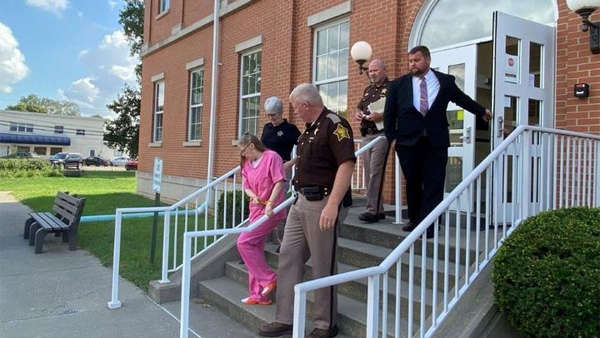 Vivian Moore has been sentenced to 30 years behind bars. Photo by the Switzerland County Sheriff's Office.
(Vevay, Ind.) – Sentencing has been handed down to a Switzerland County woman accused of murder.
Vivian Moore was sentenced Tuesday in Switzerland County Circuit Court for her role in the death of her ex-boyfriend, Dennis Dziwulski.
Dziwulski was killed in June of 2018 following a domestic violence dispute at the home he shared with Moore on Beatty Ridge Road.
The initial investigation revealed that Moore repeatedly struck Dziwulski in the head with an iron skillet as he slept. Moore was also accused of ordering her son, Justin Girdler to strike the victim in the head with a hammer.
Investigators say the two then disposed of Dziwulski's body in a wooded area behind the home.
Moore was sentenced to 30 years behind bars with two years suspended after pleading guilty to Conspiracy to Commit Murder (Level 1 Felony).
As for Girdler, he is facing a murder charge and is still awaiting trial.
RELATED STORIES:
Victim's Ex Is Second Person Charged In Switzerland County Murder
Human Remains Found In Switz. Co Identified; Victim's Wife's Son Accused Of Murder