Justin Girdler, 25, of Carrollton, was arrested Tuesday in connection with Dennis Dziwulksi's June 2 death.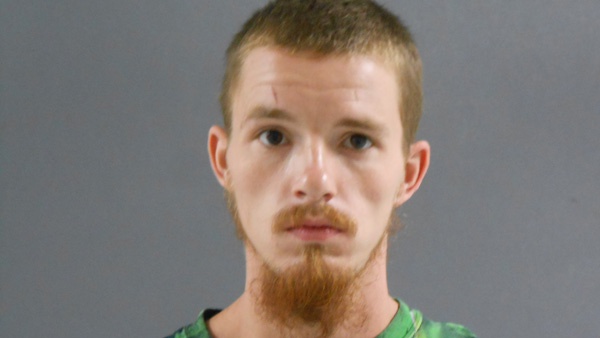 Justin Girdler is charged with the murder of Dennis Dziwulski. Photo by Switzerland County Sheriff's Office.
(Switzerland County, Ind.) - A body discovery in Switzerland County has become a murder investigation with one man accused of the killing.
Eagle Country 99.3 previously told you that human remains were found June 25 in a wooded area near a vacant home on Beatty Ridge Road. The home had been that of Dennis Dziwulski, who was last seen on June 2.
Justin Girdler, 25, of Carrollton, Kentucky, was arrested Tuesday in Madison in connection with Dziwulksi's death. He has been charged with one count of Murder and three counts of Obstruction of Justice (level 6 felony).
Girdler is being held in the Switzerland County Jail without bail. He appeared in Switzerland Circuit Court on Thursday morning. A jury trial has been scheduled for December 11 with attorney R. Patrick Magrath appointed to represent Girdler.
A probable cause affidavit filed in Switzerland Circuit Court on July 3 details the murder investigation. In the document, Switzerland County Sheriff's Office detectives state that two deputies responded to a domestic abuse incident at Dziwulksi's mobile home on the afternoon of June 2. The deputies arrived to find Girdler holding a hammer, which they ordered him to put down.
Girdler's mother, Vivian M. Moore, was married to Dziwulski and was present.
After investigating, deputies found no cause to arrest anybody, but they ordered Girdler to leave the home. Moore decided on her own to leave with Girdler.
"Girdler seemed to be the agitator/aggressor while the investigation took place and verbally expressed his discontent to them that Dziwulksi was not arrested," detectives stated in the affidavit.
A deputy remained on scene a while after their departure to make sure Girdler did not immediately return.
The next morning, Kentucky State Police contacted the Switzerland County Sheriff's Office to inform them that a vehicle registered to Dziwulksi was found abandoned on a dead end road in Carroll County. When Dziwulksi could not be reached to retrieve the vehicle, it was stored at a towing business.
On June 22, Dennis Dziwulksi's brother, Doug, contacted the sheriff's office to share his concern for Dennis' welfare. He had not spoken to or heard from his brother since the evening of June 2 – the day of the domestic abuse call. He had also ceased showing up for work and his phone had been disconnected.
Doug told police that Dennis told him when they last spoke on June 2 that his relationship may be ending. Doug contacted Vivian Moore, who he said told him that she and Dennis split up, and he was moving back to Maryland.
Investigators spoke with Dziwulksi's landlord, who said Vivian Moore moved out of the home soon after the June 2 domestic abuse call.
Detectives then spoke to Moore by phone on June 22. She told them Dennis had moved back to Maryland after ending their relationship on June 2. She said her son, Girdler, drove her back to the home later that same evening. She claimed she and Dennis argued, he threw and broke his phone, and he left stating that he was moving back to Maryland.
The landlord gave police permission to inspect the vacant mobile home. They found evidence of "a significant blood-related event" in the living room. They would soon discover unidentified human remains in a wooded area about 50 yards from the home.
The skull of the body appeared to have contained "fractured defects" to the back portion, according to the affidavit.
Following the discovery, detectives again interviewed Vivian Moore. She initially attempted to claim responsibility for striking and killing Dziwulski with a cast iron skillet as he laid on a couch. Girdler attempted to make the same claim.
In later interviews, detectives say, Moore and her son changed their story to a version which law enforcement believes to be true. They said Girdler was in fact the one who took Dziwulksi's life on June 2.
Girdler allegedly told investigators that he struck Dziwulski in the head with a hammer after Moore had already struck him in the head with an iron skillet.
"Girdler stated that he felt forced to do so after being intimidated by his mother," detectives recorded in the affidavit. "Girdler indicated that Dziwulski was on the couch at the time he was struck with the hammer."
The body was initially hidden underneath the mobile home, but Girdler returned the next day to move Dennis' remains to the woods.
Girdler, Girdler's girlfriend and the girlfriend's brother each aided in driving Dziwulksi's car to Kentucky to make it appear as if the murder victim had left the home as Moore initially claimed. Detectives reviewed surveillance video from a gas station near Markland Dam where they had stopped along the way. The video allegedly showed the group with Dziwulksi's Chevrolet Trailblazer and a second vehicle.
Detectives note in the affidavit that the human remains found near the crime scene have not yet been positively identified as Dennis Dziwulksi, but have moved ahead with filing the murder charges with the confessions and strong evidence that the remains are his.
There are no court records showing that Moore or the two who aided Girdler in abandoning the victim's vehicle in Kentucky have been charged.
RELATED STORIES: