The Greater Harrison Chamber of Commerce hosted the State of the Community Address Breakfast today, February 13.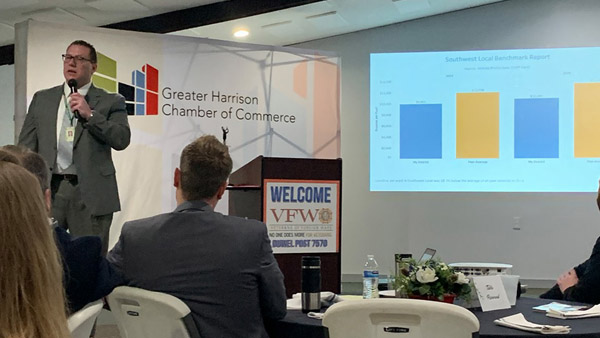 (Southwest Local Schools Superintendent John Hamstra.)
(Harrison, Oh.) - The City of Harrison's past accomplishes and future endeavors were discussed at today's State of the Community Address Breakfast.
City of Harrison Mayor William Neyer, Southwest Local Schools Superintendent John Hamstra and Athletic Director Mark Meibers, and State Representative Cindy Abrams all spoke to address the happenings in the community.
Representative Cindy Abrams addressed the legislative for the committees that she sits on that will help the local community move forward.
"My role in these committees is to serve as gate keeper. This means that I, along with other members of the committee, make sure that every bill that extends to the House floor is a good vote for public policy that will benefit the people of Ohio," says Abrams.
She also praised the population increase of almost 4,000 people in the last four years. She explains how this shows prosperity and a support for economic growth.
"What I can assure you is that keeping and creating jobs and people in Ohio is our top priority. Our focus has been not only on investing in the needs of today, but laying the foundation for Ohio's future. This includes attracting and retaining a skilled workforce."
Mayor Neyer spoke to the progress that the city saw throughout 2019.
"We have a very busy year last year [2019] managing commercial and residential growth. There's a great deal of excitement with the new businesses coming to our downtown," says Neyer.
2020 looks to be another promising year for the city.
Adding more new businesses, citywide water softening, and the continued efforts of the recently added Resource Committee will keep Harrison moving forward in the right direction.
John Hamstra and Mark Meibers updated the community on the advancement of the school district and athletic facilities.
Superintendent Hamstra was pleased to report that the school district was making great strides. From seeing an increase in enrollment to $100 million in upgrades and new buildings, the Southwest Local School District is thriving.
With the outdoor multipurpose facilities upgrading with the school buildings, the improvements as a whole will push the school district ahead of many in the southwest Ohio area.
Athletic Director Meibers announced that they have nearly reached the goal of $1.5 million. With ground breaking in March, boosters are looking for some more pledges to reach that amount.
The Greater Harrison Chamber of Commerce hosted the State of the Community Address Breakfast today at the VFW Duwel Post 7570.
See Mayor Neyer's full presentation here.
RELATED STORIES:
GHCC To Hold State Of The Community Address Breakfast
Harrison Receives $250,000 Grant From Bengals, NFL For New Football Facilities