Renovations are expected to begin this summer.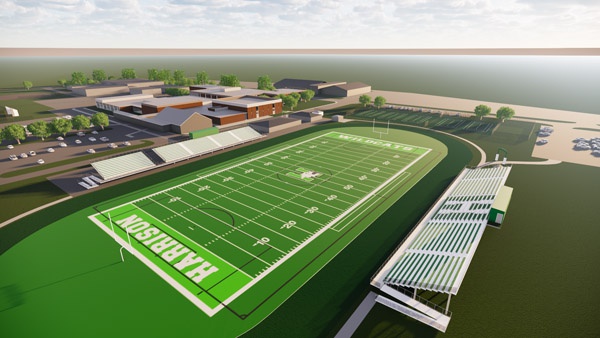 (Harrison, Oh.) - The Harrison High School football program is getting some help to revamp their facilities.
The Bengals, NFL Foundation Grassroots Program, and Local Initiatives Support Corporation (LISC) have donated a sizable amount of grant money to award $3 million to schools for field refurbishments this year.
$250,000 has been awarded to Harrison High School.
This grant will allow Harrison to install a new turf field along with a practice field. With new and improved facilities more than just the football team will benefit. Events include more football games, practices, as well as other sporting events and even community usage.
"Harrison High School is honored to be selected as the recipient of this grant," said Mark Meibers, Harrison High School Athletic Director. "Our community is experiencing rapid growth, and a turf practice field in addition to the turf game field will provide opportunities for an increasing number of student-athletes at all age levels."
Harrison Athletic Boosters have been working hard to improve the football field to provide a space for the community to learn, grow, develop, and compete. With no tax dollars being used for improvements, the boosters are relying on grants and donations to fund the project.
Since 1998, the NFL Foundation Grassroots Program has contributed to the construction or renovation of 376 football fields nationwide. $61 million has been granted by the NFL Foundation to support the cause of servicing playing fields in underserved neighborhoods.
These fields are either built newly or receive significant renovations. Improvements include irrigation systems, lights, bleachers, scoreboards, goal posts and turf. Grassroots grants can only be issued once funding for the project is established.
"It's always great to be able to give back and make a difference, so we're honored to have played a role in helping this project come to fruition," said Bengals Executive Vice President Katie Blackburn. "We look forward to seeing the finished fields and the positive impact they will have on youth for years to come."
Through the LISC program, local communities are provided financing and technical assistance needed to improve not only the quality, but also the safety of the field.
"Greater Cincinnati and Northern Kentucky Local Initiatives Support Corporation (LISC) works with residents and partners to forge resilient and inclusive communities of opportunities – great places to live, work, visit, do business and raise families," said said Kathy Schwab, Executive Director of LISC, Greater Cincinnati. "We could not be more pleased than to support our youth in this community."
The Bengals and the NFL have already distributed over $2.3 million to local schools for new fields.
For more information on the NFL Foundation and LISC, visit the Southwest Schools website.
RELATED STORIES:
Harrison High School Turf Field Fundraising Hits $615K
New Multi-Use Turf Field Is Goal Of Harrison Athletic Boosters' Campaign