Harrison High School could be getting a new artificial turf field for football soccer, and other activities.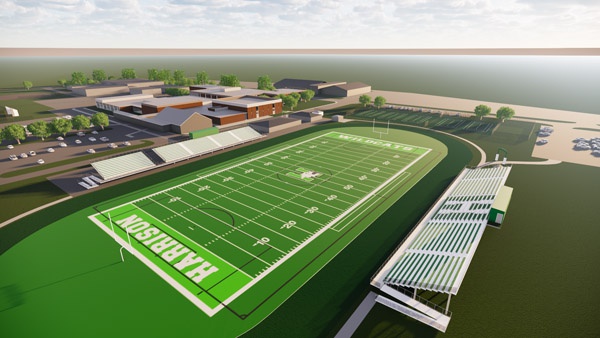 A rendering of a possible new artificial turf multi-use field at William Henry Harrison High School. Image via Harrison Athletic Boosters.
(Harrison, Oh.) – Harrison Wildcats football may soon take place under the Friday night lights and on a new artificial turf field.
A fundraising campaign could help fund the installation of a multi-use turf field at William Henry Harrison High School's Bill Kuntz Field.
Southwest Local Schools have announced the Inspired by Excellence Wildcat Stadium Renovation campaign. The goal is to raise $1.5 million for the turf field as well as new visitor bleachers, a visitors press box, stadium scoreboard, and two fully-irrigated natural grass practice fields.
The effort is being led by the Harrison Athletic Boosters. A flyer announcing the campaign states "NO TAX $ USED".
In November 2017, voters in the school district passed a bond issue and tax levy to fund three new elementary schools, a new middle school, and renovations to the high school. Outdoor athletic facilities including the high school football field, however, have not been in the conversation for improvements.
A community informational meeting will be held Tuesday, May 28 starting at 7:00 p.m. at the William Henry Harrison High School Activity Center Theater.
RELATED STORIES:
Southwest Local Schools Raise $25K For Leukemia & Lymphoma Society
Southwest Local Schools Earn Good Grades, Awards
Southwest Local Schools Receive 2018 Momentum Award
Southwest Local Schools Will Build New Schools With Bond Issue, Levy Passage