These South Dearborn students built the printers that build things.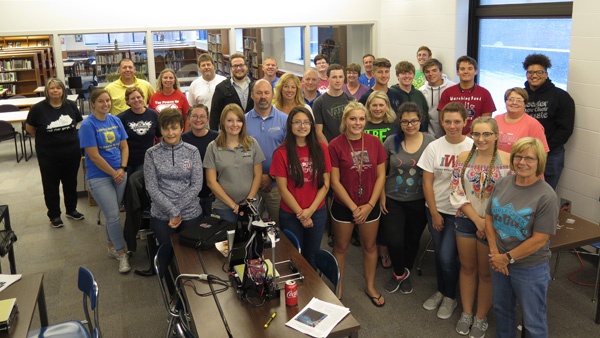 Photo provided.
(Aurora, Ind.) - Rarely do educators and students get to experience the latest in advanced manufacturing technology, but 3D printing is different. It has been called the third industrial revolution because it makes it possible to make things which weren't possible to be made before. It also ushers in an era of making customizable parts – even body parts – that create whole new markets. Right now, America leads in this revolution.
Last weekend, 38 South Dearborn educators, administrators, IT specialists, SD graduates, and high school students undertook what would seem to be a fantasy of science fiction! They constructed 14 3D printers which will be used by students from elementary through high school around the district.
"Actually, 3D printing something gets you second prize" said Kim Brand, leader of 1st Maker Space, the Indianapolis based company that provided the 3D printer kits and training on how to assemble and use them. "3D printing is a process that includes computer aided design, (CAD,) science, technology, engineering, math, (STEM,) coding, and lots of problem solving. When a student learns those disciplines he or she is ready for a job in nearly any advanced manufacturing area – where the high wage/high demand jobs of the future are. "That gets first prize in my view," Brand continued.
Mrs. Mary Bailey, principal of Aurora Elementary, arranged for the 3D printing 'boot camp.' "Our students love to learn when the activity engages their creativity and curiosity" she said. "In fact," she continued, "they can't get enough!" Mrs. Bailey was amazed that 14 high school students invested their entire Saturday teamed up with leaders of every school in the district to assist with building and debugging the 3D printers. More South Dearborn High School students wanted to be involved, but there wasn't enough room to accommodate them.
"We know that our South Dearborn classroom teachers will make good use of this high-tech equipment", said Mrs. Bailey. "The 14 3D printers will enable students to turn their virtual designs into physical things. We want to give every student a peek into the future of manufacturing and inspire them to imagine how they can benefit from it," she said.
The administrators and teachers were happy at the end of the long day of building 3D printers for their respective buildings and were looking forward to the excitement the kids will have when they get to use them. Mrs. Bailey added, "Their young brains are like sponges – they learn so fast. They will grow up thinking that anything is possible. We want them to know that is the case."
Participants included SD students: Lauren Weissmann, Sidney Schaeffer, Ali Powell, Reagan Stevenson, Brett Lusby, Jacob Hayes, Brent Otten, Kobi James, Carson Deamron, Bryston Cotton, Remi Slayback, Rachel Montes, Brett Womble, and Marianna Carrillo. Teachers: Jim Stevenson, Joani Heffelmire, Joseph Gehring, Katlin Wagner, Carrie McCune, Sonya Gabbard, Chris Slayback, Kevin Zugelter, Katie Weinbender, Susie Thompson, Jodi Cesene, and Carl Lee. Paraprofessionals: Tammy Wohlfrom and Kelsey Probst. Administrators: Sam Melton, Janet Platt, Daryl Werner, Leanna Phillippe, and Mary Bailey. SD eCoach: Cynthia Basham. IT Specialists: Derrick Mann and Dave Mahan. SD graduates who are now engineers in the workforce: Drew Strasemeier and Adam Bailey.