The accident occurred around 6:13 Monday evening.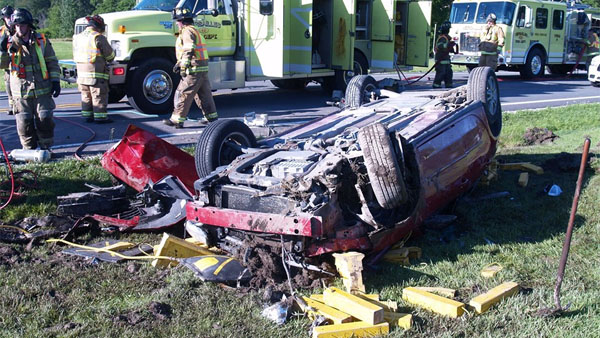 Photo by Versailles Fire Rescue.
(Versailles, Ind.) – Two people were transported to area hospitals after a vehicle overturned in Ripley County.
Ripley County Sheriff's deputies responded to the crash on the 3000 block of U.S. 50 around 6:13 p.m. on Monday.
Deputies say Cheyenne Claire, of North Vernon, was eastbound on U.S. 50 when she fell asleep and ran off the roadway. Her vehicle hit a culvert and flipped end over end, eventually landing on its top.
Claire was able to exit the vehicle and was transported to Margaret Mary Health in Batesville for treatment.
Her passenger, Robert Waltermire had to be extricated from the vehicle. He was flown to University of Cincinnati Medical Center with unknown injuries.