Daryl Cutter, Chris Daughtery, Kelli Gentrup-Pettit, and Steve Hamlett are ready to serve the school corporation.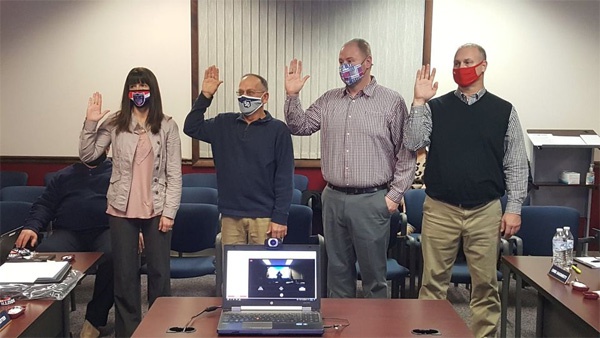 Pictured left to right: Kelli Gentrup-Pettit, Daryl Cutter, Steve Hamlett, and Chris Daugherty. Photo by SDCSC.
(Aurora, Ind.) – The South Dearborn Community School Corporation is welcoming four new members to the school board.
Daryl Cutter, Chris Daugherty, Kelli Gentrup-Pettit, and Steve Hamlett were sworn in on Tuesday. Gentrup-Pettit and Hamlett won the two seats up for grabs in District 2 during the November General Election, receiving more votes than incumbent Karla Raab.
Cutter and Daugherty were unopposed in the election.
While the four new members get comfortable in their new roles, the school corporation needs to fill a vacancy on its school board.
The school corporation is currently accepting letters of interest to fill the at-large Board of School Trustees position.
Interested candidates are asked to submit a letter of interest and short biography to Board President, Scott Willoughby (scott.willoughby@sdcsc.k12.in.us) by 4:00 p.m. on Wednesday, January 20th.
For more information about the SDCSC School Board, visit https://www.sdcsc.k12.in.us/school-board/school-board-overview.