A large contingent of concerned citizens appeared at Monday's South Dearborn school board work session.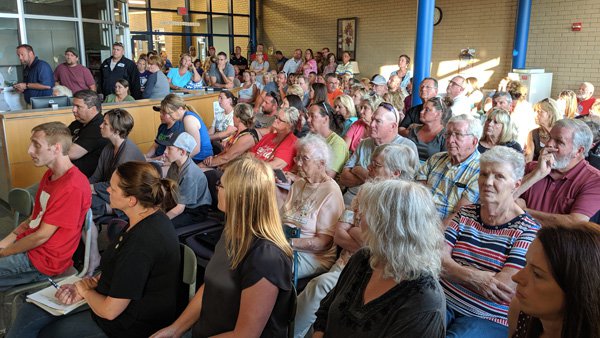 Parents, students, and community members turned out for the South Dearborn Community Schools Board of Trustees work session on enrollment and finances at South Dearborn Middle School on Monday, July 8. Photo by Mike Perleberg, Eagle Country 99.3.
(Aurora, Ind.) - Dozens of community members from Dillsboro and Moore Hill filled the South Dearborn Middle School library to learn the potential fate of their schools.
Though some progress was made, the overflow crowd didn't come away with any better idea of what changes might ultimately happen in the school district.
The South Dearborn Community Schools Board of Trustees held the latest in a series of work sessions as they work toward a determination of how the school corporation should handle declining enrollment and a resulting budget shortfall of about $1.5 million.
Open enrollment in Indiana has benefited some school corporations, but hurt others such as South Dearborn. The district lost 102 students in its boundaries to Lawrenceburg schools this past school year, another 100 to Milan and 21 more to Sunman-Dearborn. Other children in the district may be homeschooled.
Combine those transfers with changing demographics and stagnant population growth in the area, and South Dearborn's student numbers have fallen from 3,122 in 2008-2009 to 2,321 in 2018-2019. As dollars follow the student in Indiana's school funding structure, those student losses translate to the loss of $750,000 in revenue for South Dearborn schools, according to information provided at an April meeting.
Now the school board is having to consider options which include asking voters to increase property taxes for schools, closing South Dearborn Middle School, or closing one or more of the elementary schools in Moores Hill, Dillsboro, or Manchester. Those options and several others receiving less consideration were developed by an advisory committee earlier this year.
But talk of any school closure is a touchy subject, especially for small towns whose identities are so closely associated with their schools.
"Dillsboro School is the #1 jewel in our crown as we talk about it. Without our school, nobody is going to want to come here and bring their kids to live," said Dillsboro town manager Doug Rump, one of about a dozen people to share their concerns with the school board Monday.
"We love the area. We love the school. It's a great school. We want to see the school stay. We are going to fight for that tooth and nail. You can see it here tonight," Dillsboro Town Board member Casey Finnegan said to a round of applause from the audience.
As much support as there was for keeping Dillsboro Elementary School open, it appears Moores Hill Elementary School's closing is much more likely.
"Dillsboro, all you guys rock for your support, but Moores Hill matters, too," pleaded one Moores Hill resident.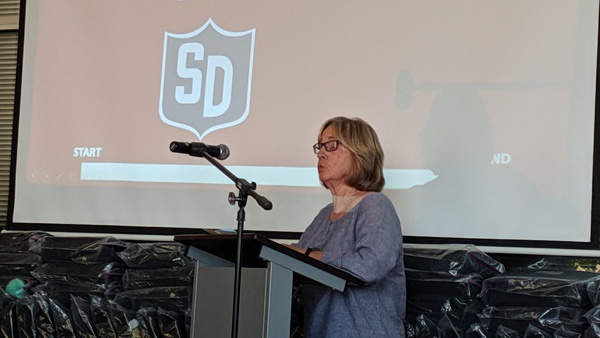 Dillsboro resident Cherie Rump speaks at the public comment portion of the meeting. Photo by Mike Perleberg, Eagle Country 99.3.
A previous school board had voted in 2015 to keep Moores Hill Elementary open as it ran at a deficit. Today, the school is at only about 30 percent capacity with the per pupil expenditure there at more than $8,800, considerably higher than the PPE at the corporation's other schools. Superintendent Eric Lows has said the school runs at a deficit of more than $250,000 per year.
Others including parent Sarah Cady, who lives in Lawrenceburg but sends her children to South Dearborn Community Schools, seemed to understand serious measures must be taken to balance the school corporation's budget.
"I am not with everybody else. We do need to look at closing a school. Do we want it to close? No, nobody does. But we can't run out of money either," said Cady.
School board holds open discussion, but no consensus on path forward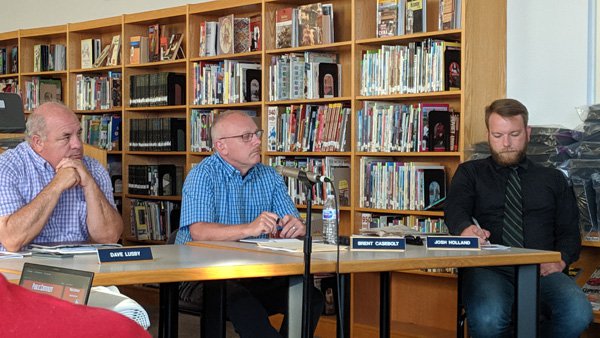 SDCSC Board of Trustees members (left to right) Dave Lusby, Brent Casebold, and Josh Holland. Photo by Mike Perleberg, Eagle Country 99.3.
During their conversation in front of the large audience, board members appeared at odds over how to solve the budget problem.
"It's emotional to close one. If we close all three, I don't think it's a gamble we are prepared for," said board member Dave Lusby, adding that the option of closing the three outlying elementaries should be taken off the table.
Board member Josh Holland advocated for closing South Dearborn Middle School in Aurora and disbursing those 7th and 8th grade students back out to the elementary schools in their neighborhoods.
Holland said SDMS could be converted into a magnet school in cooperation with local, private businesses, perhaps attracting students to the district and stabilizing enrollment – it's unknown what appetite there is for operating or attending a magnet school. Keeping all three outlying elementaries open would send a positive message to those communities and perhaps lure families back, he argued.
But Lusby offered a reason for keeping SDMS open.
"I think the middle school serves a good purpose. It's a nice introduction to high school. We have 8th graders taking high school courses and I don't think you'll see that anymore if you close the middle school," he said.
Discussions are continuing, but by the end of the meeting it appeared the school board could be moving toward a November or May ballot referendum to increase property taxes in the school district. The amount could range from $600,000 up to $2 million each year for eight years to help the corporation balance its budget.
Essentially, the taxpayers may be asked to put their money where their mouth is. If a tax increase does not pass, South Dearborn could have no choice but to close one or more schools in order to stay out of the red.
But board members and some citizens who spoke Monday are concerned how a referendum might divide the community. Many feel that was done by a 2017 petition and remonstrance against a failed tax increase to fund South Dearborn High School improvements – those included an artificial turf multi-purpose field and an activity building.
"I don't think anybody up here ran to close a school, but we have to make the tough decisions," stated member Brett Fehrman, who advocated for pursuing a referendum. "Give people the opportunity to subsidize and keep things open for a period of time."
However, it may be too late to place a referendum on the November ballot, according to school corporation business manager Shawn Spindler, citing his discussion with the bonding company the school has used. Advertising, a vote, and other steps toward a ballot referendum must be completed before August 1 in order to get it on the November ballot.
Waiting until May for a referendum would mean South Dearborn would start its next budget year with the deficit, but superintendent Lows said there could be areas to cut and make it work.
"Not to say we couldn't sustain that time. We can look outside the box to make it happen if that's the option the board wants to pursue," said Lows.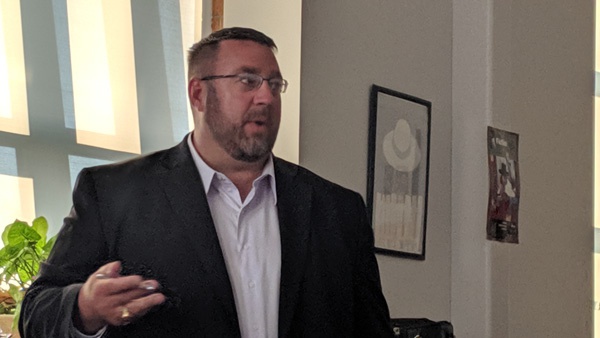 Eric Lows, South Dearborn Community School Corporation superintendent. Photo by Mike Perleberg, Eagle Country 99.3.
Board members instructed Spindler and Lows to get opinions from other bonding companies before ruling out a fall ballot referendum. Holland stated that he believed that the referendum amount is too much to ask from taxpayers.
Scott Willoughby, who guided the discussion as board president, said that the school district can't be operated at more than its income.
"If our enrollment doesn't become stable, then we are going to be facing this problem again," he said.
Another work session is planned for Wednesday, July 24 from 6:00 until 8:00 p.m. at SDMS. Lows told Eagle Country 99.3 that meeting will focus on proposed facility upgrades at one school which is almost certain to remain open: South Dearborn High School.
RELATED STORIES:
Share Your Thoughts At Another South Dearborn Schools Enrollment, Facilities Meeting Tuesday
SD Schools Hold Community Roundtable Meetings May 28, June 4
South Dearborn Schools Hosting Another Meeting On Enrollment Decline Tuesday
School Board Work Session Becomes Larger Discussion On South Dearborn's Future