A major decline in the number of students attending South Dearborn Community Schools is likely going to require some tough decisions soon.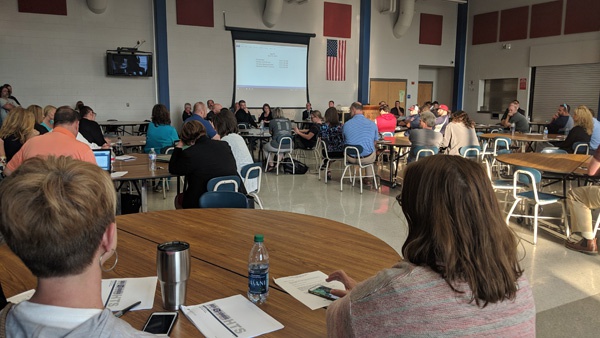 South Dearborn Community Schools held a work session on Tuesday, April 23, 2019. Photo by Mike Perleberg, Eagle Country 99.3.
(Aurora, Ind.) – South Dearborn Community School Corporation may close down one or more schools in the face of dwindling enrollment, while potentially investing millions of dollars in the high school.
The South Dearborn Community Schools Board of Trustees held a three-hour work session Tuesday evening to hear the findings of a Citizens Advisory Study Committee. The committee was formed in April to investigate and develop options to steady the district's financial outlook.
According to business manager Shawn Spindler, a loss of 130 students district-wide from just last school year resulted in a $750,000 decline in the school corporation's revenue. The school corporation is currently operating at a deficit of around $300,000 per year.
If it doesn't get its finances in order, the district could be at risk of a state takeover, superintendent Eric Lows told more than 40 people at the meeting held in the South Dearborn Middle School cafeteria.
"This is going to present a financial problem to the district. There is no doubt about it," he said. "We have to create a plan. We want to do that with your help."
South Dearborn Community Schools Enrollment Trends and Building Capacity Filled

School
Enrollment 2009-2010
Enrollment 2018-2019
% Building Capacity 2018-2019
Aurora Elementary
718
525
57%
Dillsboro Elementary
319
223
45%
Moores Hill Elementary
288
142
30%
Manchester Elementary
296
253
53%
South Dearborn Middle School
457
347
56%
South Dearborn High School
909
831
66% (expected to drop to 50% by 2028)
School corporation total
3,122 (2008-2009, all-time high)
2,321
--
source: South Dearborn Community Schools
The advisory committee's options include closing one or more of the district's three outlying elementary schools in Dillsboro, Manchester, and Moores Hill. Four years ago, Moores Hill Elementary School was eyed for closure, but the school board at the time opted to keep it open. Lows said it is costing at least $250,000 per year to continue operating Moores Hill at a loss.
Another scenario presented is the closure of South Dearborn Middle School. SDMS students would be distributed out to reopened middle school wings at the district's four elementary schools. The committee noted that it might not be wise to close the middle school, the district's newest building constructed in 2006 and having $24 million in debt still owed on it. The middle school could still be used as a community fieldhouse, a performing arts center, a community college or a learning academy – all of which would likely require some ongoing operating costs.
Other options included reducing expenditures by making further budget cuts, asking voters to approve a referendum to increase property taxes for the purpose of funding educational needs, or aggressively recruiting students and sustaining enrollment to get more per pupil funding.
One option for which there appeared to be little support was Option A: "Do Nothing."
South Dearborn Community Schools Student Net Loss Of Transfers To Other Districts 2018-2019

School District
SDCSC Student Net Loss/Gain
Lawrenceburg
102 lost
Milan
100 lost
Sunman-Dearborn
21 lost
Rising Sun-Ohio County
13 gained
source: South Dearborn Community Schools
While school closures are on the table, the school corporation may also look to make improvement at one school it knows will remain open. Some areas of South Dearborn High School have not received major improvements since the school opened more than 40 years ago.
Superintendent Eric Lows shared a project analysis prepared by George K. Baum & Company. It details up to $5.17 million in potential improvements at South Dearborn High School - the school board could choose to pursue all, some, or none of the facility upgrades.
The highlights of the suggested high school improvements include the swimming pool deck, auditorium, gymnasium, balcony, cafeteria, fine arts additions, and the football field and renovations to its adjacent facilities. View the South Dearborn Community Schools slideshow presentation on the proposed high school improvements here (link to PDF document, 10 MB).
"There are some needs and some wants here. I think that providing options at this point is beneficial for the school corporation," said Lows.
SDHS improvements costing $9.75 million were approved by the school board in 2016, but were later stopped when defeated by taxpayers in a petition race. A major sticking point in that debate was whether a new artificial turf football field and activity building were truly needed.
The artificial turf football field idea returns in this latest proposal. The school administration has received a quote of $850,000 for a new turf field to match those added at Lawrenceburg and East Central high schools in recent years.
"This was very contentious. I understand that. People are very passionate when talking about this. I just want to provide options to the board," said Lows, adding it is important to provide adequate facilities for the students there now.
In the high school auditorium, the stage is deteriorating. The auditorium's chairs – many of them worn or broken – are the same that were installed when the school was built in the 1970s. A fine arts addition, new seating, new flooring, LED lighting, stage floor refinishing, and painting would cost around $493,000.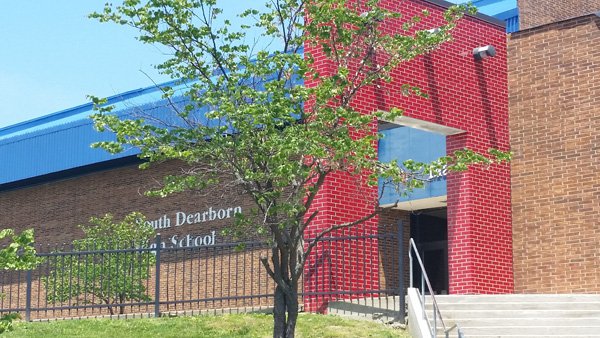 South Dearborn High School. File photo.
Lows laid out the tax implications for property owners in the school district if the project were to be adopted at the full $5.17 million. For each $100,000 in home valuation, a property owner would pay an additional $4.75 per year on their property tax bill. Commercial properties would see an increase of $14.50 per year for each $100,000 in assessed value. An acre of farmland would not see any tax increase, according to Lows' presentation.
To understand how the school corporation could justify shuttering schools while investing millions at another, it is important to consider how schools are funded in Indiana. South Dearborn receives about $6,100 per pupil to pay for general and educational expenses such as teacher salaries and classroom supplies. However, property tax levies pay for non-educational expenses including capital projects such as school buildings and facilities, as well as utilities, transportation, and salaries and benefits of the superintendent, business office, and custodial/maintenance staff.
"It is two silos of money," explained school corporation business manager Spindler.
The school board took no action Tuesday. A board member encouraged parents and citizens to attend the board's regular monthly board meetings to follow the process.
Public weighs in on problems facing school corporation
In addition to the school board, advisory committee and administrators, more than two dozen members of the public appeared at the work session meeting. All who spoke were in agreement with the idea that the school corporation must take action.
A parent of students involved in the South Dearborn High School's performing arts programs told the board that the high school stage isn't safe. A student said the stage is falling apart, instruments in the music department are breaking down, and trash is stuffed in improper places in the auditorium.
Parent Melissa Terrill added that the high school football field is her son's stage and that the holes in the natural grass are not safe, there are beehives in the railing covers, and the locker rooms are a disgrace.
"Aren't all of our students deserving of something better?" Terrill asked.
A number of statements were made about the quality of the school facilities and the perceptions it has on visitors and students who might transfer elsewhere. Chris Daugherty said the high school is the backbone of the community.
"Can we improve things? Can we tighten spending? I think we have to do both. If we want to spend the bare minimum to survive, it just won't work," he said.
Another citizen who spoke said the school corporation is taking care of its job when it comes to academics, offering up the example of early college classes being offered at the high school. The facilities, however, are not what they should be.
"This is something which anybody in this area should want to invest in," he said.
Jeff Cotton is a school parent and member of the advisory committee. He was an opponent of the 2016 building project which was halted by the public remonstrance.
"We need to upgrade and update some things, but we need to be honest and consider grandma and grandpa out there on a fixed income," he said. "We've got to challenge our board and our administration to step up."
Parent Brandon Messmore said everybody has a reason why they want South Dearborn schools to succeed.
"It is time we do it," he said.
One parent lamented the lack of transparency about Tuesday's school board work session, saying most people found out about it through social media. Lows said the meeting was properly advertised and that the district strives for transparency.
One administrator said the meeting was simply to be a work session for the advisory committee to deliver its findings to the school board. Through social media, it "morphed" into a building project meeting, the administrator said.
RELATED STORIES:
Taxpayers' Efforts Successfully Stop SDHS Improvements, For Now
LETTER: City Of Aurora Seeks Transparency In South Dearborn HS Building Project
South Dearborn Board Won't Close School... Yet
Passionate Moores Hill Residents Come Out To Fight Possible School Closure