The 21-year-old man who attacked the then-11-year-old victim had met her on Tinder.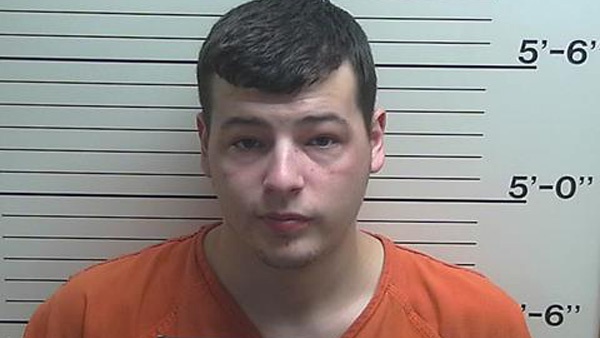 Travis A. McAdams. Photo by Dearborn County Sheriff's Office.
(Greendale, Ind.) – Keeping the victim from having to go through the stresses of a trial is the motivation behind a plea deal for a man previously accused of raping an 11-year-old girl.
Travis A. McAdams, 21, of Greendale, was arrested last December in Dearborn County after he met the young girl on the dating app Tinder. They met up at a theater where McAdams allegedly assaulted the young girl in December of 2017.
McAdams and prosecutors recently reached a plea agreement in which he pleaded guilty to Sexual Battery (level 6 felony) in exchange for a charge of Rape (level 3 felony) being dismissed.
On July 3, Dearborn Superior Court I Judge Jonathan N. Cleary sentenced McAdams to 910 days, the maximum allowed for a level 6 felony in Indiana. The judge credited 410 days for time served in jail and the remaining 500 days are to be served on probation.
Dearborn-Ohio County Prosecutor Lynn Deddens says the plea agreement was supported by the victim's mother, as it would also prevent the girl from having to go through a trial. The mother testified during the sentencing hearing that her daughter was not mentally capable of being part of a jury trial.
The well-being of the victim is always the paramount concern in criminal cases, the prosecutor said.
"Plea negotiations are always a give and take," explained Deddens. "With that being said, numerous lengthy and candid conversations were had between myself, my office, the victim and their family. Through these conversations, it became apparent that putting our victim, a young person through a lengthy trial was not in their best interest. As a result, a plea agreement was reached."
"When this case was filed, based on the evidence contained in the Affidavit, the Judge found probable cause for all the charges filed against the Defendant. Through the process of Discovery, which is the exchange of witnesses and evidence between my office and defense counsel, it furthered our conversations towards a resolution. During ongoing negotiations, the Rape allegation was dismissed."
Had he been convicted of Rape, McAdams could have been sentenced from three up to 16 years.
As part of his sentence, McAdams must register as a sex offender for 10 years. He is to have no contact with the victim by any means.
RELATED STORIES: