UPDATE: Blind Hunt Club, LLC's request for a conditional use permit has been delayed until April 9.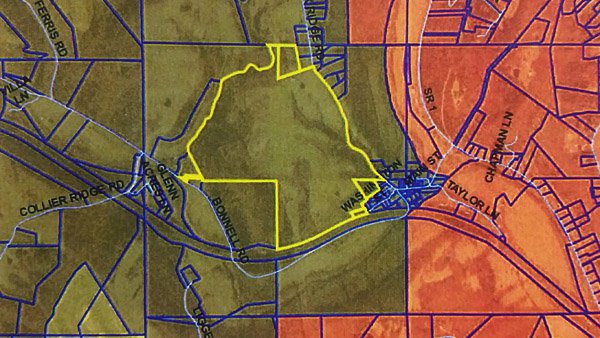 The Blind Hunt Club LLC property in Dearborn County's York Township is outlined in yellow. Image from application submitted to Dearborn County Department of Planning & Zoning.
Update published at 2:42 p.m.:
Dearborn County Planning & Zoning says the conditional use request by Brian Lane and Blind Hunting Club, LLC through the Dearborn County Board of Zoning Appeals has been tabled until April 9, 2019. The request was made by the applicant.
Original story published at 6:55 a.m.:
(Guilford, Ind.) - Dearborn County's Board of Zoning Appeals will hear about plans to establish an outdoor hunting club near Guilford on Tuesday, March 12.
Blind Hunt Club, LLC is the owner of the 411-acre site along York Ridge Road. The owner had last year proposed developing the property into a large subdivision, which brought out opposition from other property owners in the area worried about additional traffic on rural roads.
Now, Blind Hunt Club LLC is asking the BZA for a conditional use permit to operate an outdoor hunting club. Brian Lane is named as the applicant.
The BZA meeting starts at 7:00 p.m. at the Dearborn County Government Center in Lawrenceburg.
According to the application, the hunting club would be open seven days a week, 9:00 a.m.-5:00 p.m., between November 1 and April 1. A zone change would not been necessary, as the property is already designated for agricultural use.
The hunting operation will be consistent with upland bird hunting, the application states. There may be distant gunfire heard, but the maximum number of hunters may not exceed three per field. Hunters will use shot shell ammunition with a maximum lethal range of 150 feet. A 500 foot setback and boundary signage will be utilized, according to the application.
A maximum of 50 members will be allowed to join the private, dues-based club. Guests will typically stay about four hours, with portable restrooms stationed at the site. A parking area for about 18 vehicles will be constructed.
The application says that a land manager with more than 30 years of experience will closely monitor the property, which will be "maintained and managed from a perspective of conservation and preservation."
RELATED STORIES:
Dearborn Co. Plan Commission Tables Zone Change Recommendation; LMU Director Takes On Conflict Allegations