The family of Justin Holland has ended their lawsuit against an Indiana Conservation Officer, the Indiana DNR, and the woman who shot and killed Holland.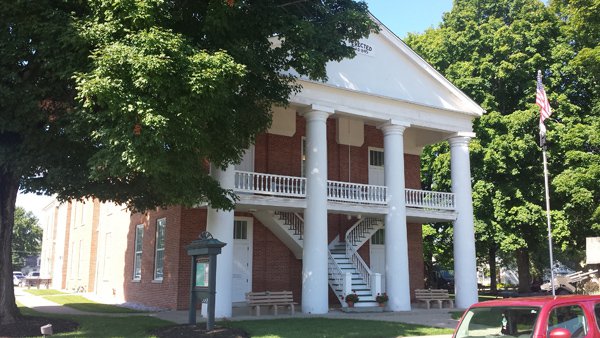 Ohio County Courthouse. File photo.
(Ohio County, Ind.) - A wrongful death lawsuit against a woman who fatally shot a man attacking an Indiana conservation officer has been dismissed.
Ohio County resident Kystie Phillips, formerly Jaehnen, was sued last year by the family of Justin Holland for the 2017 shooting. The lawsuit also named Indiana Conservation Officer Michael Christopher Powell and the Indiana Department of Natural Resources as defendants.
On Wednesday, January 30, the Holland family's attorney, Thomas Dall with the Law Offices of Blake R. Maislin, LLC., filed a motion to dismiss their wrongful death lawsuit against Phillips in Ohio County Circuit Court. The dismissal was granted by Judge James D. Humphrey on Friday, February 1.
Holland was high on meth and marijuana when Phillips saw Holland attacking Conservation Officer Powell outside her home. She came outside armed with her own weapon and shot Holland in the shoulder in a successful effort to save Powell's life.
After reviewing investigators' findings, Dearborn-Ohio County Prosecutor Lynn Deddens declined to criminally charge Phillips. The prosecutor said Phillips acted in defense of a third person.
Dall has not commented on what led to the decision to drop the lawsuit.
Just a couple days before the lawsuit was dropped, Phillips and her attorney, Guy A. Relford, testified to an Indiana House of Representatives committee in support of a bill which would provide civil lawsuit immunity to people who commit a justified use of force.
Relford has also not responded to a request for comment.
RELATED STORIES:
Woman Who Saved Officer's Life Makes Tearful Plea For Immunity Legislation
Attacker's Family Files Wrongful Death Lawsuit Against Woman Who Saved Conservation Officer