The local FOP is raising money for the woman who helped save the conservation officer's life.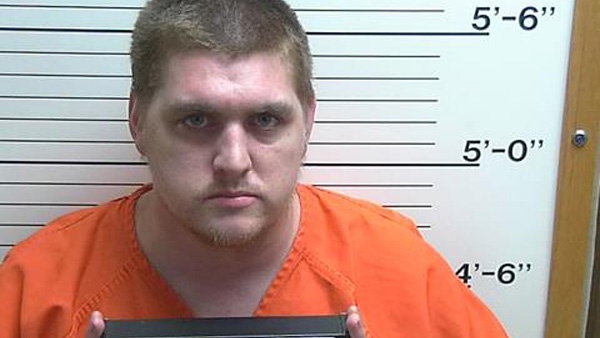 Justin Holland was shot and killed by Kystie Jaehnen as he fought with an Indiana Conservation Officer in Ohio County on February 20, 2017. His family has filed a wrongful death lawsuit. Photo by Dearborn County Sheriff's Department.
(Ohio County, Ind.) - A wrongful death lawsuit has been filed by the family of a man who was shot and killed by a witness during a fight with a conservation officer in Ohio County.
It was February 20, 2017, when a 911 call was made reporting a man's truck partially parked in the caller's driveway on State Road 56. The truck was partially blocking a lane of the highway.
Indiana Conservation Officer Michael Powell had gone off-duty just a few minutes earlier and arrived at the scene, where he encountered 25-year-old Justin Holland. Powell observed that Holland was impaired and attempted to handcuff him, but Holland resisted.
Kystie Jaehnen witnessed the struggle between Holland and Powell from her home along the highway. She brought out her own gun and shot Holland in the shoulder to end the fight.
Holland later died at the hospital.
The following May, Dearborn-Ohio County Prosecutor Lynn Deddens announced that no charges would be filed against either Jaehnen or Powell. Deddens said that Holland may have been trying to reach for the officer's gun as they fought on the ground, and Jaehnen acted in defense of Conservation Officer Powell. Toxicology tests also found Holland had meth, marijuana, and other drugs in his system at the time.
On April 6th, Holland's mother Laura Holland, father Eric Holland, and sister Samantha Holland filed a wrongful death lawsuit in Ohio County court. Jaehnen, Powell, and the Indiana Department of Natural Resources are named as defendants.
"Defendant Kystie L. Jaehnen used excessive and unjustified deadly force in shooting and killing Plaintiff's decedent, Justin Holland," the complaint alleges.
The family's lawsuit also alleges that ICO Powell "acted willfully, wantonly and with reckless disregard for the welfare of" Holland. They believe Powell disregarded procedures and policies regarding the use of force.
The IDNR, the lawsuit states, did not properly train Powell.
The actions of the defendants violated Holland's civil rights, resulted in his wrongful death, and were negligent, according to the complaint.
The Hollands are seeking unspecified damages, relief, and legal fees from Jaehnen, Powell, and the Indiana Department of Natural Resources. They demand a jury trial.
Attorney Thomas J. Dall, Jr. at the Law Offices of Blake R. Maislin in Cincinnati is representing the Hollands in the lawsuit. When reached by phone Monday, Dall declined to comment further on the lawsuit.
Powell is being represented by an attorney hired by the Fraternal Order of Police.
Laughery Valley FOP Lodge president Bill Halbig has started a GoFundMe page to raise legal defense funds for Jaehnen. As of Tuesday, more than $18,000 in donations have been made by 362 people. The fundraising goal is $300,000.
"It is tragic how one person's irrational and unlawful actions can destroy the peaceful lives of others," Halbig wrote on the GoFundMe page.
"This case is about more than the right or wrong of one party suing another. Imagine not being able to come to the aid of another person for fear of being sued, possibly to the point of bankruptcy. The case is about a person having the basic God-given right and the 2nd Amendment right to defend both yourself and others and without the fear of civil retribution," Halbig continued to write on the page.
Donations above the cost of Jaehnen's legal defense will be donated to St. Jude Children's Hospital and the Police Benevolent Fund.
Jaehnen's attorney, Guy A. Relford of Carmel, Indiana, did not return a request for comment left at his office on Monday.
The entire complaint filed by the Holland family can be read below: