The river fell below flood level Tuesday night.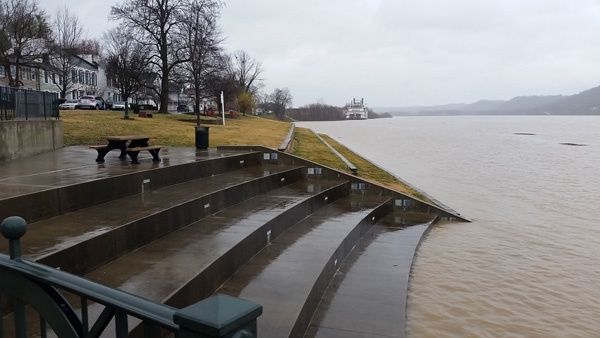 Ohio River in Rising Sun. File photo.
(Lawrenceburg, Ind.) - The Ohio River has fallen below flood level, but that doesn't mean mother nature is through with the tri-state.
The river went below 52 feet Wednesday night. It was at 51 feet and still falling Thursday morning. The lower river level ended a Flood Warning that had been in effect for about a week.
The Anderson Ferry and Rising Star Casino's MS Lucky Lady Ferry are still closed as of Thursday morning with the river still running higher than normal.
Winter weather is set to make a return this weekend. The National Weather Service says significant snowfall is expected this coming Sunday. Some estimates have been three to five inches, but the weather service says accumulation will depend on how the storm tracks over the next few days.
Warmer air with high temperatures in the 30s and 40s the rest of this week will be replaced with highs in the 20s and lows in the single digits Monday and Tuesday.
[8:01 AM] It's a new week and gratefully a new weather pattern for the OH Vly, with generally drier conditions expected for the next week or so. This will close out what has been a very wet winter across the region -- with near record precipitation at some locations since Dec 1! pic.twitter.com/vlCxZP9MZU

— NWS Wilmington OH (@NWSILN) February 25, 2019
RELATED STORIES: