For the second time this month, the river is officially flooded.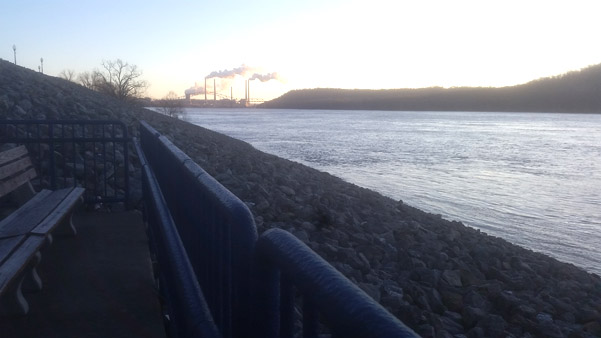 The Ohio River at Lawrenceburg. Photo by Mike Perleberg, Eagle Country 99.3.
(Lawrenceburg, Ind.) - The Ohio River is just reaching flood stage Monday morning.
Some heavy rain Saturday evening has caused the river at Cincinnati to surpass flood stage for the second time this month.
The river will crest at 53 feet, only about a foot over flood stage, by Tuesday evening. It will fall below flood stage Thursday morning.
The Anderson Ferry closed Saturday evening and won't reopen until the Ohio River falls. Some low lying roads such as Laughery Creek Road and Cole Lane in southern Dearborn County could be forced to close if the water rises much higher.
Drier weather is expected by the weather service until a slight chance of rain returns Thursday. High temperatures will be around 39 on Monday, 46 on Tuesday, and 54 on Wednesday.