56 bicycles were collected through the Bikes for Tykes program.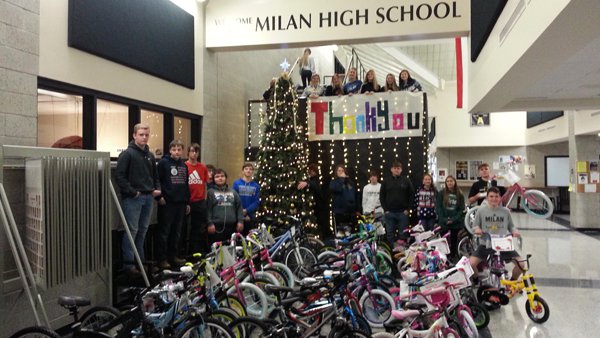 (Milan, Ind.) - Milan High School continued a tradition of giving by collecting bicycles for the local Bikes for Tykes program.
Teacher, Jeff Stutler, tells Eagle Country that even as a small community, they were able to come together to collect 56 bikes for children in need this holiday season.
"Through the generosity of our students and small community we were able to donate 56 bicycles to underprivileged children and give them the Christmas experience that so many of us fondly remember," says Stutler.
A tradition that was started 23 years ago by retired teacher, Steve Gutzwiller, still proves to be an important part of Milan High School. Gutzwiller still participates to this day.
This year, the 'Seminar and Service' and 'Prep for College and Careers' classes took on this project to make it the success that it quickly became.
Students in the classes started to raise awareness by placing donation jars in the schools GP classes, offices, and cafeteria with a bicycle picture and dollar goal for each jar. Fliers were handed out to individuals and businesses to explain the Bikes for Tykes drive and the costs of bicycles if they wanted to donate.
Margaret Mary Hospital has even gotten involved by providing a helmet with every bike donated.
Today, bicycles were delivered to Saint Paul Lutheran church in Milan. The church will then distribute the bikes to local families before Christmas.
Although the Bikes for Tykes drive is over for the year, donations can still be accepted. Funds collected would be applied towards next year's drive.
If you would like more information on Milan High School's Bikes for Tykes program, you can contact Jeff Stutler.